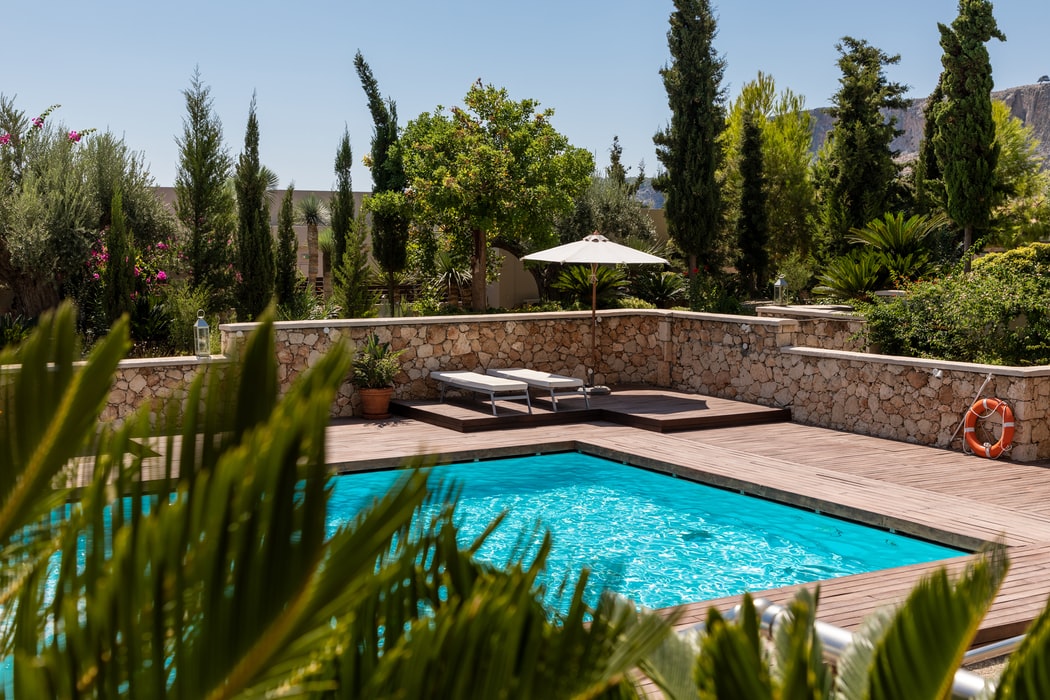 Whether you've already got a pool in your backyard or not, there is a good chance that the area behind your home is being drastically underused. While getting a pool installed is a great first step, building a true backyard oasis around that centerpiece is something that really could transform the space completely.
Here at Sunset Pools & Spas, we obviously can help with the swimming pool and/or hot tub, but if you want to take your backyard to the next level, consider hiring our designers and landscapers to add the following backyard oasis ideas as a means of spicing up your outdoor spaces around that swimming pool and deck:
Privacy
One of the first things a landscape designer will tell you when redesigning your backyard is that a little privacy goes a long way. It is much easier to relax in backyard pools and living spaces when there is no fear of snoopy neighbors looking on. Adding fences or garden walls are great for patios, as are lattices, pergolas, or even tall landscaping features. Any or all of these provide you with increased privacy.
Shade
Certain privacy features, like the pergola, can provide shade, but even just installing certain features under existing trees or investing in shade umbrellas can do the same thing. Having the pool in the sunshine is great, but in the hot afternoon during cookouts, you and your family may appreciate a cooler area to sit and eat.
Comfortable Patio Furniture
Avoid cheap, plastic patio furniture and instead opt for something classier, more comfortable, and more resilient. Wrought iron and cast iron are great-looking, durable options, as are all different colors and types of woods. There even is new synthetic material available for pillows and cushions that make outdoor furniture more comfortable and aesthetically pleasing than ever.
Fire Pit
Enjoy your outdoor living space in the evenings with a fire pit, which can be both attractive and warm. It also can help keep bugs away and provide the perfect spot for roasting marshmallows or hot dogs.
Outdoor Kitchen
More complex cooking needs can be serviced by designing and constructing an outdoor kitchen customized to your space. Depending on the complexity of the kitchen, these can include a grill, a stovetop, and even an oven, all of which combine to cook your food in great weather right alongside your pool. What better way to improve a living space than by adding fine grilled cuisines?
Water Features
Not only does a water feature look great in or around your pool, but the soft trickle of water adds a certain aural ambiance to your backyard oasis, as well. We have several different options for water features that can work in your pool or patio space, but all of them look great and function beautifully in the context of your pool.
Here at Sunset Pools and Spas, we do much more than just install pools. If you need any help with backyard design, outdoor living, landscaping, or deck and patio enhancements this year, please contact us and we will be happy to help turn your backyard pool into a true oasis!