Custom Swimming Pool Designs in Chicago
Don't Be a Square! - Five Top Swimming Pool Designs for Chicago Homes
Which Pool Shape is Right for Your Chicago Home?
Choosing to install a pool in your yard is a big decision. However, once you have decided a pool is right for you and your family, your decision making is not done. Picking the perfect pool shape and design is something that Chicago homeowners struggle with for days or weeks before they find the right one. It's important to remember that there are plenty of options out there—a plain rectangle pool is just the beginning! Here are five popular designs for Chicago homes that may get your creative juices flowing.
Figure Eight Swimming Pool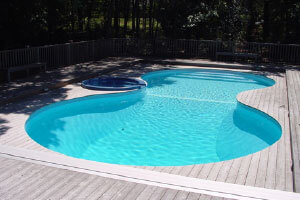 The gentle curves of a figure eight pool are ideal when you want a softer, appearance than a simple square or rectangle can provide. The curved edges make it easy to install steps or ladders in the most convenient locations too.
---
Roman Swimming Pool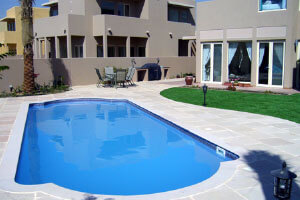 If you like a square or rectangle shape but want something with a bit more style, the Roman design may be perfect for you. This design is all about beauty and elegance, and the squared edges give it a strong feel.
---
Kidney Swimming Pool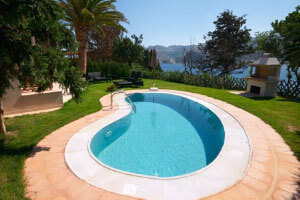 Another curved pool design is the kidney. This curved style is a very popular shape for smaller areas as it works easily into many landscape designs. You can easily add "wow" by implementing waterfalls or other artistic elements with this simple shape.
---
Round or Oval Swimming Pool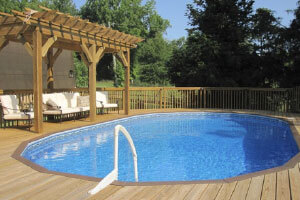 While these pool designs require more space than others, there is something distinctly appealing about a round or oval pool. A round shape is perfect for spending time with friends and family while an oval shape offers the same benefits as a rectangle for designating a "deep end."
---
L-Shaped Swimming Pool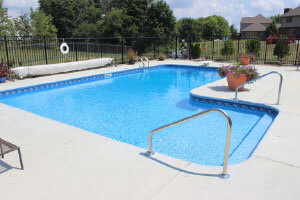 One of the more luxurious pool designs is the L-shape. The separation is ideal for offering a long swimming space and still keeping a spot free for floating or playing. The spaces are separate, but with the patio "between" the segments, no one feels isolated.
Remember, these five pool designs are only a few of the options you have to choose from when you are installing a pool for your home. If you are located in the Chicagoland area and would like to learn more about your options or set up a free consultation, contact us at Sunset Pools and Spas today.
Source