Automatic Swimming Pool Cleaners
Thanks to our swimming pool cleaning solutions, your life just got easier.
Chicago's Best Automatic Pool Cleaners
When it comes to how you spend free time, there are more important things to do than tending to your swimming pool. Thanks to our cleaning solutions, your life just got easier. Read about our cleaning solutions below.
Cyclean: The In-Floor Cleaner
With Cyclean, an automatic in-floor cleaning and circulation system, your pool can be built to clean itself while you relax. Built right into the pool shell, Cyclean is engineered to clean your entire pool, including floors, steps, benches and even spas. When not operating, Cyclean disappears back into the pool floor, making it virtually invisible. All that's left is a sparkling clean pool that's ready to enjoy.
Cyclean is custom designed for your unique pool shape, and is so effective that it will clean more than 99 percent of your pool – guaranteed. It will also significantly reduce heating and chemical costs for the life of your pool.
How does Cyclean work?
Cyclean automatically cleans your entire pool with pressurized jets of water.
Cyclean's nozzles evenly rotate through 12 positions for dependable cleaning.
Cyclean's nozzles utilize an internal sweep 90 flow path to extend its cleaning distance.

Cyclean is flush with the floor when not in operation, so your pool is always beautiful and ready to enjoy instead of overrun with vacuum hoses.
Cyclean Paramount's Debris Containment Solution
When dirt, sand, leaves and debris fall into your swimming pool, they usually end up sinking to the bottom. The Paramount Debris Containment Canister provides a convenient place to collect debris for easy removal – right from the deck of the pool! With a capacity that is 400 percent larger than your average pump basket, you can dispose of the contained debris easily and less frequently. This is a great feature, particularly because conventional pools quickly accumulate lots of debris.
The Paramount Debris Containment Canister connects to the suction side of the pump. It uses the power of the pump without robbing performance and simultaneously allows your pool builder to install a smaller, more economical pump.
Pressure Side Pool Cleaners
Pressure side pool cleaners attach to the side of the plumbing that returns clean, filtered water to your pool. These cleaners use power from the water pressure to pick up dirt and debris and collect it in an attached bag. Many also have their own hydraulic power plant inside for additional power.
The below two cleaners have stood the test of time and are the most reliable cleaners available.
---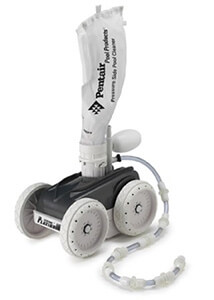 The Pentair Kreepy Krauly ® Platinum™
The Pentair Kreepy Krauly ® Platinum™ is simply an ideal choice for inground pools exposed to higher loads of leaves and debris from – for example – lush landscaping. Kreepy Krauly is suitable for concrete, vinyl-lined and fiberglass pools, and features:
Dual thrust jets that provide maximum power for speed and suction
Front-wheel drive and heavily treaded tires to provide maximum traction on inclined surfaces
Four-wheel design to prevent tipping, which is common with three-wheel cleaners
A large-capacity debris channel and huge intake throat for picking up larger leaves and debris
---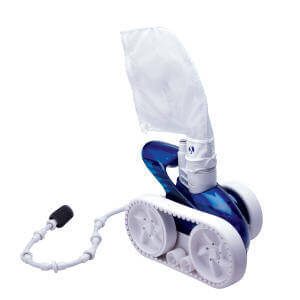 The Polaris 480 PRO
The Polaris 480 PRO delivers high-end style with professional power and performance. With four powerful vacuum jets, a super-sized jet drive and large-capacity intake, the Polaris 480 PRO comes equipped with a zippered all-purpose bag, three disposable bags, extra scrubbers, an in-line filter screen and a customized license plate.