It finally happened. The temperature in Chicago and the surrounding areas dropped to single digits this week.
Given the frigid air we experienced, I doubt you're thinking about the next time you have to mow your lawn or trim the bushes in your yard. But it can't hurt to close your eyes, think ahead and imagine a warmer, greener time of year—right?
Look no further for daydream inspiration than to one of our recent client projects, pictured here.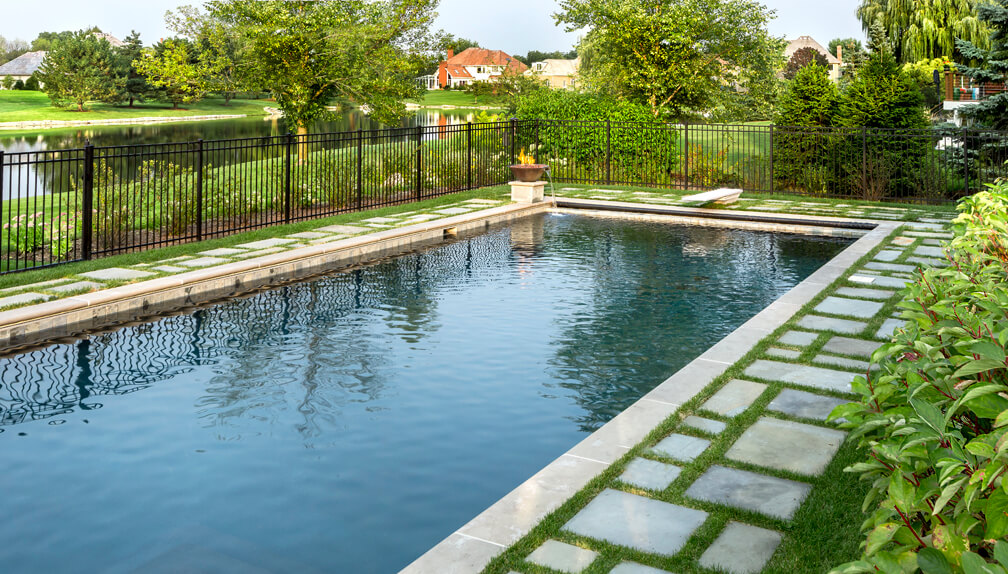 This backyard is more than just a beautiful picture that can temporarily make us forget the frosty temps; it also demonstrates how tiny hints of nature can enhance an entire poolscape.
Natural Rock
The natural bluestone squares surrounding this pool are a symmetrical and elegant addition to the yard. However, these steps have a practical use as well, as they are slip resistant. This type of enhancement is not only visually appealing, but it adds an extra element of safety around the outside of the pool where kids are prone to running and where it tends to get slick from splashing water.
Grass and Greenery
The neighborhood where this home rests is full of greenery. The grass surrounding the pool helps to bring out the other trees, bushes and grass in the area, and makes the entire picture look like one cohesive landscape.
Hints of Natural Water
And of course, we can't forget about the pool. The inside of this particularly grand pool—which is 50 feet long and 20 feet wide—was designed with a black interior so the water would match the color of the housing development's lake. This detail invites more of the natural beauty from the surrounding area into the backyard.
Overall, this poolscape is a beautiful reflection of the nature surrounding it, and hopefully provides some inspiration as we daydream about the warmer and greener months ahead.