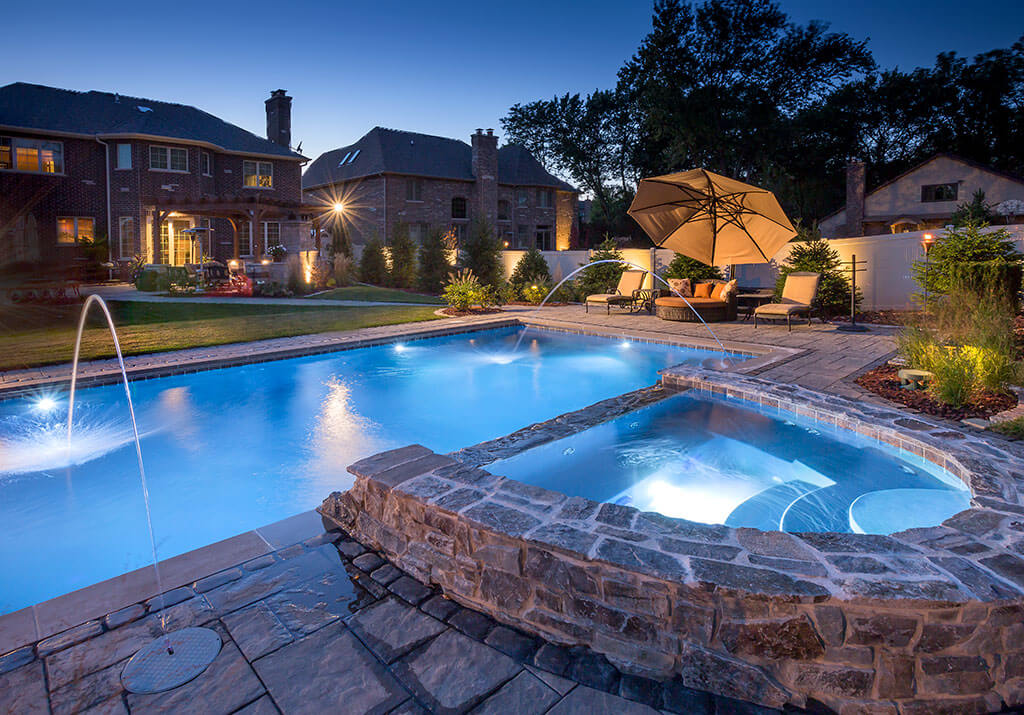 Have you ever gone on vacation only to come home wishing you could live in that paradise dream world forever? You can actually make that wish come true and you don't even need a genie to make it happen.
Bring the vacation home with you and create your own patch of paradise with these creative custom backyard oasis ideas from Sunset Pools & Spas – one of the top custom pool builders in the United States.
Create a Cozy Common Area
The place where everyone comes together in the backyard is the most important. The seating area is where you will most likely spend most of your time, so make it cozy and comfortable with full views of your inground pool.
Test out any furniture you buy to make sure you can get comfortable sitting on it and make sure there are a few different types of seating, including a comfortable couch, a 'couples' chairs, and a lounger or chaise.
To really up the comfort level add a custom fireplace or fire pit for warming up on cold nights, or roasting marshmallows during the long nights of summer when you want to be outside and enjoying your custom pool.
Add Relaxing Water Features
There's nothing more relaxing than lounging in the backyard with soothing tones of trickling or bubbling water around you. Water features make the entire experience and can be incorporated in many different ways.
Adding a hot tub is a most common feature to incorporate into your backyard pool design, but if you don't have the room for something of that size consider a small garden pond, fountain, or birdbath to elevate the backyard experience and bring a sense of the spa to your own home.
Protect Yourself From The Elements
If you're going to spend the time and money on a backyard oasis, you'll want to enjoy it more than those few days of perfect weather each season. Give some thought to the type of protection you want, based on your space, and the type of weather you're most concerned about. 
With summer sunshine comes the potential for sunburns so consider adding some architectural elements for protection. Adding a covered structure such as a gazebo, awning, pergola or screened-in porch protects those enjoying your backyard oasis and will provide shade when it's needed most.
Decorate for Style and Functionality
There are endless choices when it comes to backyard furniture and decor. While you always want to keep things stylish and in line with the ambiance you want to convey, be sure to keep functionality top of mind as well.
Before you grab for that rug or set of pillows on sale for a steal, take a minute to make sure everything is waterproof and can withstand the outdoor elements for years to come.
Discover the Perfect Layout
Designing the perfect backyard oasis can be an overwhelming task. With so much to consider and take into account, it's certainly not a one-person job. That's why Sunset Pools & Spas is here to help make every decision a breeze. Our full-service backyard design services are guaranteed to leave you with the perfect custom backyard design you'll love.
Learn more about our backyard design services and contact us today to get started on the custom backyard of your dreams.