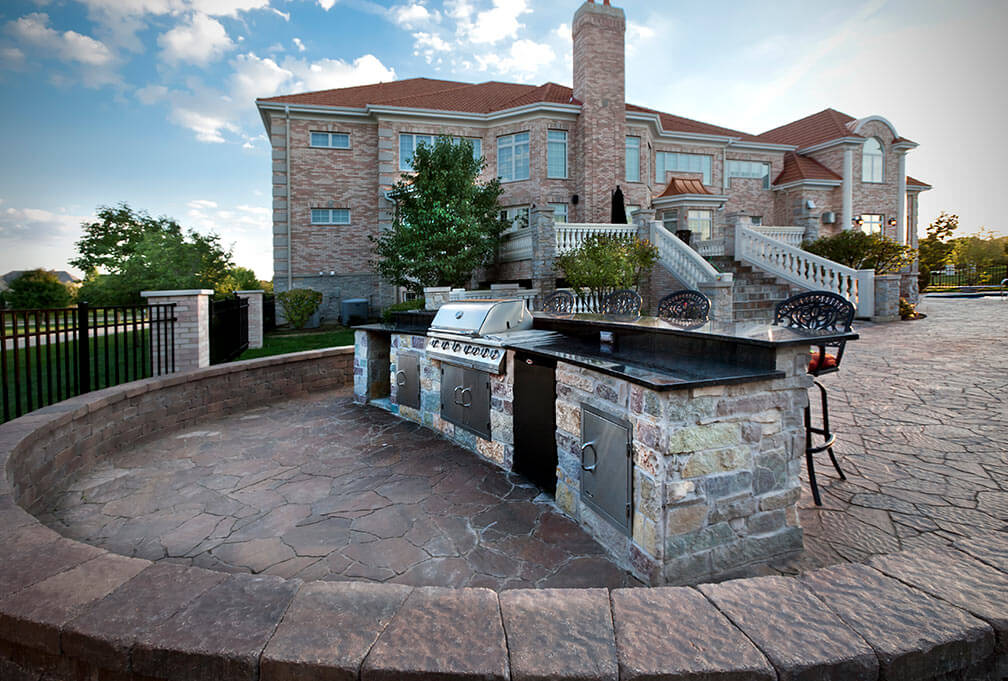 In addition to your outdoor pool, there are many ways to further develop your backyard outdoor experience. One way, in particular, is designing an outdoor kitchen to barbecue, store drinks, frozen foods, or anything else you may want to snack on while swimming.
Here are a few tips to help you design a beautiful outdoor kitchen, that will not only make your outdoor pool experience more delightful but can also increase the value of your entire property. Be sure to contact your local swimming pool company to get the process started. 
Choose the Right Backyard Kitchen Materials:
When designing your outdoor kitchen, it is important to keep in mind that the materials must be durable enough to withstand any weather conditions, rain, storms, snow, sleet, hail to name a few. Because of this, it is recommended to choose materials and countertops that are lower in maintenance, and much easier to clean.
Decide on Portable Vs. Permanent Outdoor Kitchen:
It is important to determine early on if you want to create an outdoor kitchen with permanent features, or one with beautiful portable accessories that you can move indoors. If you believe your outdoor kitchen is a long term investment, then create an outdoor kitchen space with built on countertops, cooking surfaces, and anything else that will endure for years to come.
However, if you don't know where you'll be in a few years, or want to buy high-end kitchen accessories that you want to move inside your cabana or house during the colder and rainier months, then buying portable kitchen supplies is a better investment. Either way, determining this before you start designing your kitchen is a good way to get the best value for your products. 
Determine your Personal Cooking Style:
When putting together your kitchen, it is best to allocate your money differently on the cooking supplies you'll use the most. Does your family love to barbecue?
Do you love fresh brick-oven pizza? Or does your family like to smoke their meat? These are the things to consider before designing your kitchen, and spending more of your money on high-end supplies that will get the most use. 
Find the Perfect Outdoor Kitchen Location:
Where you put the kitchen is arguably as essential as the appliances that you buy. If you acquire a nice grill set, you want to make sure that the smoke from the barbecue isn't flowing to the front of your house, or through the windows of your bedroom. Additionally, knowing the wind pattern of your property can be a big help in choosing where to put your kitchen.
If you have kids who love to throw the football around your outdoor grass area, putting the cooking materials next to that probably won't be a good idea either. It is crucial to run through all the potential hazards before building your kitchen from the ground up. 
Hire the Best Dontractor:
When all of your planning of where and what you want your kitchen to look like, it is important to choose the best contractor or company to get the job done. Because there is a lot that goes into planning and executing an outdoor kitchen, choosing a company that can do it all will be your ideal option in getting the best bang for your buck. Choose wisely, and good luck in creating the outdoor kitchen you've always wanted!