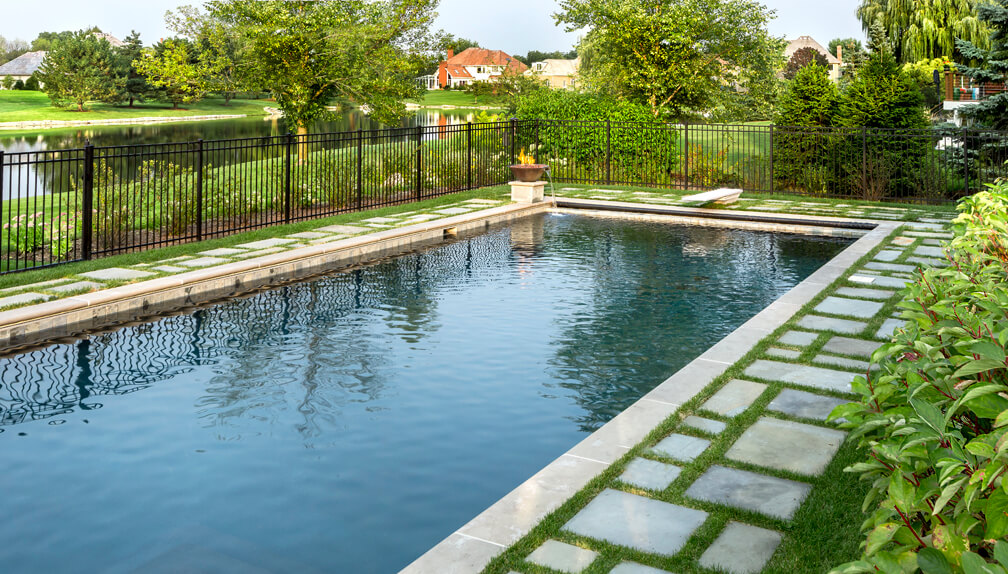 There's nothing better than a cool swim on a hot night – but do you really want to swim in the dark? Of course not, and that's exactly why so many pool owners want lights in and around their outdoor pools.
Not only do outdoor pool lights make a swimming experience far more enjoyable because it's possible to use it more often, but lighting also makes for a much safer and, of course, better-looking pool.
Lighting contributes greatly to the aesthetic of backyard pools, highlighting features such as walkways and paths around the pool and even areas such as pool decks, pergolas, slides, fireplaces, and diving boards – whatever makes your pool unique. If you're looking for some inspiration, just explore Sunset Pools Project Gallery.
What should you consider when the aim is to create the optimal swimming experience with lights?
The most important thing to determine is how much lighting will be required to cover all the areas you want lit. "The spread" of light depends on the pool lights used and the level of reflection. Most pool installers typically recommend LED lighting with a spread of about 15-20 feet but there are several other things to address.
Other important considerations to make when it comes to outdoor pool lighting is the shape of the pool and the material used within it. Darker surfaces, for example, will require more lighting and irregular shaped pools demand near perfect positioning to ensure not only that it looks great but that it provides enough light in areas to make the pool as safe as possible.
While any qualified electrician can install supplementary lighting around a pool, when it comes to installing lights within your pool, turning to a qualified installer of outdoor pool lights like Sunset Pools & Spas is the best course of action thanks to its decades of experience. Even when you turn to a knowledgeable expert to install outdoor pool lights, however, there are still several important considerations pool owners will need to make – whether you are buying replacement pool lights or if you are still in the design phase of an inground pool construction project.
A qualified professional will be able to assess your existing pool or its development plans and make an appropriate recommendation, but two of the most important variables that pool owners should be aware of include voltage and cord length. Voltage is arguably the most important factor when it comes to lighting within an inground pool. Today, most pools use 120-volt lights but there are some local areas across the United States that have specific rules and laws about what kind of actual lighting is allowed so you'll want to check with your installer to make sure you are in compliance with regulations.
Another consideration pool owners will need to make is regarding the cord length. Some pools and properties are larger than others, of course, so measuring from the light to the junction box is going to be critical. Ideally, these cords will have enough "slack" (or extra cord) to pull the light up onto the pool deck. Most pool light cords range in length from 15 to 100 feet so buy what you need and make sure they are of the highest quality to ensure safety.
Turn to a professional to install lights within the pool itself. These are electrical components and need a qualified person to ensure installation is safe. Sunset Pools & Spas is knowledgeable about making these specific pool improvements and can do the work right the first time.
Lighting is an important part of the optimal pool experience – choose wisely and swim often!