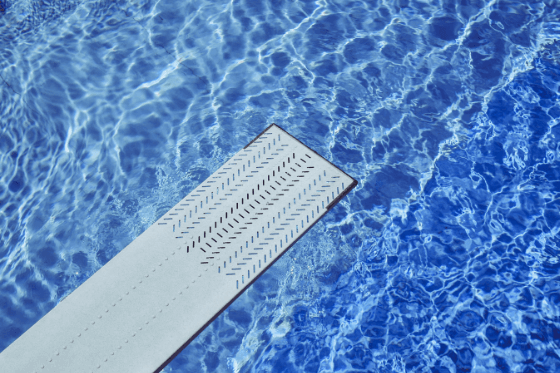 In order to create a pool that is worthy of repeat use, pool owners must create more than just a safe and clean environment, they also need to provide an interesting, memorable and fun experience for their visitors and patrons – and there is no better way to do that than through the pool features that are added during a pool renovation or new construction.
Creating a pool that people want to come back to depends on several factors that are not always within one's control, but with a little forethought into the general pool design and ensuring expertise and quality in residential swimming pool construction, a more enjoyable (and yes, memorable) experience is possible. So let's dive in!
Consider the following pool features to create a more memorable experience at your swimming facility – whether you're doing a renovation of an existing swimming pool or simply looking to add a few new features to an already exceptional experience.
Slides, Splash Pads and Diving Boards
We're all kids at heart and that is why the most memorable pools are often those that have features that are just plain fun to use. From built in slides and nostalgic diving boards to new age splash pads for the kids, there is no end to features that pool owners can integrate into the design of their swimming facility.
Hot Tubs and Spas
To create a atmosphere of relaxation, there is no substitute for a functional hot tub or spa. There are the obvious health benefits, of course, but using these features as part of a broader swimming pool facility is a great way to differentiate the experience you provide. While there is additional cost and maintenance required for those swimming pools that have a hot tub or spa, there is no question that they are effective at helping create a memorable experience worthy of repeat visits.
Swim-up Bars
Swimming pools focused on and designed for entertaining should seriously consider the addition of a bar in close proximity to their pool and potentially even accentuate the bar with some underwater barstools. Swim-up bars provide an excellent opportunity for guests to interact casually with each other, relax, and most importantly, enjoy themselves.
Fountains + Waterfalls
Nothing says sophistication, relaxation and enjoyment like a pool with a fountain or waterfall. The soothing sounds or a gurgling fountain and the natural, visual appeal of an elegant waterfall are only improved further by thoughtful, well-designed lighting, creating an enduring and endearing experience for visitors.
Spillways and Infinity
Design has always played a critical role in how swimming pools are perceived and there are an abundance of ways pool owners can leverage their time planning to create a better experience in general for visitors. From the actual shape or style (classic stainless steel pools to new age infinity pools) to the quality of materials and features (like spillways) created during construction, the best swimming pools in the world are always those that always use the most elegant features.
Swimming pools, whether they are designed and built for residential or commercial purposes, should always keep enjoyment at the top of their wish list when it comes to creating a memorable experience for visitors. Turn to Chicagoland's top residential swimming pool builders and spa experts at Sunset Pools & Spas to create a pool that makes a lasting impression.