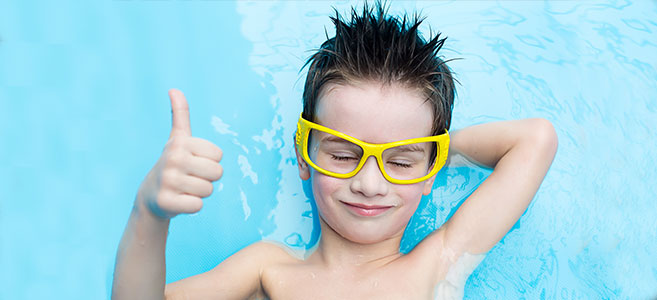 Inner tubes, noodles, floaties, rafts—pick your favorite pool floating device. No matter which one you choose, they are all fairly inexpensive additions for your pool accessory collection. They invite fun; they can bring an extra element of safety for newer or younger swimmers; and they will also allow you to mix it up during your next pool party.
Here are several ideas of how you can incorporate floating accessories into your next pool party!
Poolside movie party: If you have access to a movie projector, this is a great activity for families, or a great way to keep the kids entertained on a summer night. Party Games Plus recommends projecting the movie off the side of your house, or even projecting it off of a hanging tarp, while everyone lounges on pool rafts during movie time.
If you have cup holders in your floating devices, and trust that your guests will not spill in the water, you can even incorporate movie snacks and beverages into the party. Otherwise, those who want to snack can just get out of the pool and munch on the patio or lawn.
Relay races: The next time the kids are home for a day, tell them to invite their friends over, and let the games begin! Adding floating devices to a swimming race can keep it fun for those who may not be great swimmers or don't typically enjoy swimming laps. At the same time, the added challenge from incorporating floating devices will make your relay races extra silly.
There are many types of ways you can incorporate floating devices into your relay races. Have the kids race across the pool with floaties on their arms, or see if they can steer themselves while sitting in a tube. They can also lie on their stomachs on top of a tube or a noodle and kick, or put their bodies through a tube and swim. If you're up for the challenge, switch it up and have the kids act as judges, while the adults race each other!
Lounge day: Who says floating tubes or rafts need a purpose other than to provide relaxation? Grab some cold beverages and a few friends, and enjoy the sunshine together while floating around in your pool. Just remember to wear sunscreen!
What are your favorite floating devices for pool parties? Let us know in the comments below.