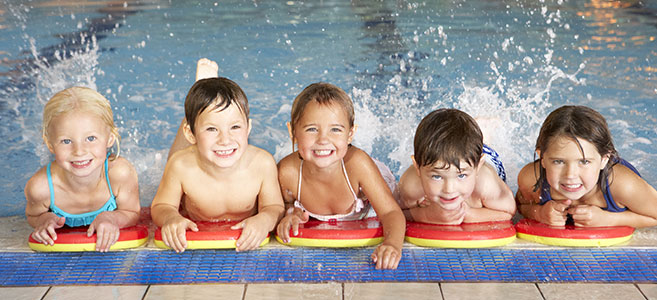 On June 18, facilities from all around the world participated in the World's Largest Swimming Lesson, an annual initiative that strives to break the world record for the largest multi-venue swimming lesson year after year. However, the event has an underlying goal: to raise awareness about the importance of teaching children how to swim.
While the total number of participating locations and swimmers has not yet been verified, more than 900 swimming locations from across the globe reportedly registered for this year's event.
The World's Largest Swimming Lesson is a wonderful reminder that while pools offer relaxation, health benefits, and a sanctuary for making wonderful memories, they also come with the added responsibility of ensuring that everyone who is using the pool knows how to swim.
In 2014, 5,800 children under the age of 15 were treated in the emergency room as the result of "injuries associated with pool or spa submersions," according to a report by the U.S. Consumer Product Safety Commission (CPSC); 4,400 of those children were under the age of five.
Fortunately, these numbers are not the result of fatal incidents. And we aren't sharing them to scare you. However, they do reiterate the importance of providing your kids with swimming lessons before you let them near the pool.
Now is actually the perfect time to register your kids for swimming lessons. School is out, the weather is warm, and there is plenty of opportunity. You may want to consider group or private lessons at a local community center or swimming school. If you have a pool of your own, you may even want to bring an instructor into the privacy of your own home.
Something else to remember: Pool safety is just as important for adults as it is for children. In fact, a 2014 Red Cross survey revealed more than half of Americans, including adults, "either can't swim or don't have all of the basic swimming skills" that make a person water-competent.
You are never too old to learn how to swim. So what better time to start learning than now?