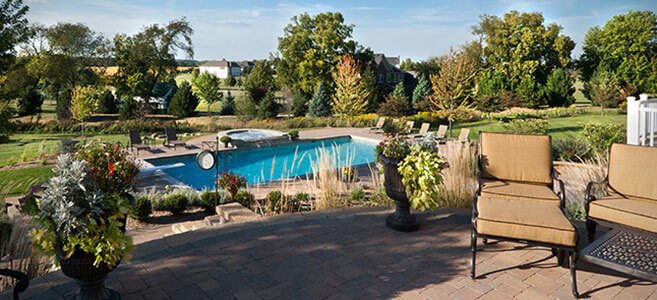 Purchasing a home can be exciting. It can also be scary, unsettling, an opportunity to start fresh and a whole other laundry list of possibilities. When we purchase a house, the fact remains that we inherit a whole roster of expenses that accompany the responsibility of home ownership. This can include regular maintenance and repairs, upgrades, utility bills, and expenses that impact the outside of the home, such as landscaping.
According to Home Advisor, landscaping installation costs the average Chicago family $4,000-$7,000. That is not a small chunk of change, and it can greatly cut into the rest of your backyard budget, especially if you are homeowner who is interested in adding a pool.
Before you get to work on your landscaping wish list, we have several tips for you to consider that can help to save money or exertion in the long run – especially if you are also interested in building a pool in your yard:
Plan ahead: Our experts at Sunset Pools and Spas aren't the only ones who will tell you that planning ahead is pertinent to short-term and long-term savings on your lawn. Better Home and Gardens and How Stuff Works both agree that knowing what you need to build your vision before you start to shell out money for plants and supplies will prevent you from spending unnecessary cash. Additionally, researching landscaping costs ahead of time may actually help you to realize what you can afford.
Ask the experts: We realize that do-it-yourself projects are on the rise when it comes to home improvements, but sometimes, it just makes sense to hire a professional. If you are looking to incorporate landscaping around your pool design or add intricate features to your yard like a pond or waterfall, hiring an expert who can handle plumbing and other electrical needs may save you a headache. Before deciding, take a few minutes to consider how savvy you are when it comes to hardscape design and whether it is a savings or a risk to take on the construction yourself.
Incorporate your landscape into your poolscape design: Some sources suggest building a landscape in phases to break up the costs. However, Sunset Pools and Spas recommends incorporating all landscaping plans and construction into your pool design to save money in the long run. By doing this, you can hire a single team to help construct a single course of action instead of finding out later on that you need extra help.
This article is the first in our series of landscaping tips for Chicago pool owners. Keep an eye out for our next post, which will focus on how to save money on plant life and other backyard features you may want to incorporate into your yard.