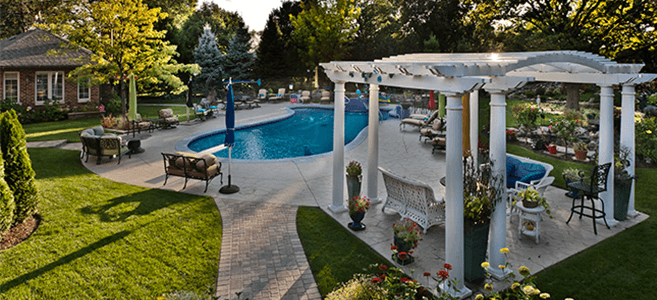 Welcome to Part II of our landscaping series. Many homeowners don't initially realize how much of a role landscaping can play in their backyard when a pool comes into the picture. That's why we decided to break up this landscaping series into two segments. If you missed our first landscaping post, you can check it out here; otherwise, keep reading for tips on how to save a few dollars on your yard's landscape design.
Consider seasonal purchases: Better Homes and Gardens suggests buying particular landscaping products that go down in prices later on in the season, such as soil, trees and mulch. While Sunset Pools and Spas recommends having a complete plan for your yard before starting the pool and landscape process, putting on the finishing touches (such as planting trees and shrubbery or building a fence constructed of lumber) later on in the season may help to save on supply costs. This may be a good tip to follow if you want to add new trees or details to your yard later down the line or want to take a DIY approach to your lawn.
Less is more: Buying more of any product will generally cost you more money. Of course, there is always the option to buy in bulk to help save on costs, but that doesn't necessarily mean that you should. Buying in bulk might be worthwhile for an item that is required for your entire lawn's preservation, such as mulch, but maybe buying 200 of your favorite high-end flowers may not be in your best interest. Remember: Sometimes simplicity can make just as grand of a statement.
Choose cheaper plants: Plants are like jewelry. Some are more expensive than others, based on their appeal, quality or availability. If you are trying to save money on your overall poolscape design or lawn, go with greenery that makes a statement on your lawn, but not necessarily your wallet.
Consider your yard's resilience: Flowers and plants are always lovely to have in a backyard, but the truth is they don't last forever. Before selecting particular types of plants for your yard, consider their resilience to seasonal changes and bad weather. Will you have to replant them every spring? Will they last through Chicago's harsh winters or the afternoons of your children running through the yard? How will they react if saltwater from the pool gets into their dirt or leaves?
Long-term options: Large landscaping rocks are a great alternative to plants, especially for a yard with a pool. While the price tag on these can cost a pretty penny up front, the right rocks can be long lasting and should sustain seasonal changes and long summers by the poolside. While the initial cost may not be ideal, using rocks in place of plants and flowers may save you money in the long run.
Although Sunset Pools and Spas is your local expert in pool design and construction, landscape design plays a big role in the completion of this process. Before starting on your landscaping plans, contact us today to see how we can help to incorporate your landscape design into the entire poolscape.