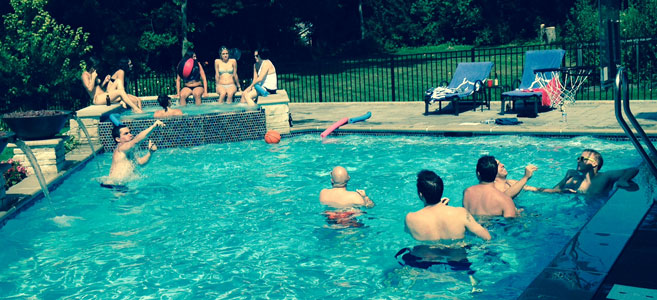 Thanks to Chicago's sporadic weather and short summer season, there is never an abundance of time available to host a pool party. And with the new school year just around the corner, this year's pool party season has almost come to a close.
While the idea of hosting an end-of-summer pool party may sound stressful (particularly for those of you with kids who are trying to get them back-to-school ready), the actuality of hosting one should be easy, especially if you've got the right setup.
This past weekend, I actually hosted a pool party of my own. The pool, of course, was built by my team at Sunset Pools and Spas, and thanks to some of the features incorporated into the recently designed space in my parents' backyard, everything went off without a hitch.
My brother-in-law and his wife spent time lounging on the steps that double as a tanning ledge, while my wife and her friends spent time in the water and hanging out in the attached spa. Even my sister's dogs had a good time wading around in the shallower areas. And by mid-afternoon, a group of us had an intense game of water basketball going.
Of course, plenty of food and drinks were provided to turn the afternoon affair into a real summer party, but at the end of the day, the pool did most of the work for us.
Having a party-friendly pool is truly the best way to ensure a successful pool party. For some ideas on how you can create a party-friendly pool of your own, check out this blog post from last summer, "Creating a Party Worthy Pool."