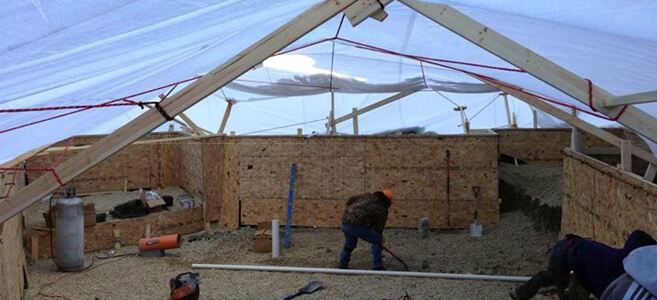 Chicago saw some record-breaking weather this month. The temperatures were frigid, the snow was plentiful and life seemed to come to a standstill all around the Midwest as winter got the best of us.
While January definitely kept most of us indoors for at least a week, winter is usually no match for us at Sunset Pools & Spas. Yes, you read that correctly: Sunset Pools & Spas undeniably continues to work hard and construct pools all winter long and in all types of weather conditions.
How is this possible? Some of our Facebook followers may have recently seen some pictures of our staff hard at work even though the weather may not have been ideal. It was cold and the ground was covered with snow. But with a solid tent and some heat, we were able to keep working as if it were any other time of year.
That being said: What is the best time of year to build a pool?
It probably goes without saying that the warmer months are typically the easiest when it comes to pool construction and renovation. The ground is at its softest, so it's easier to dig up, unlike in the colder months when the ground is susceptible to freezing over. Additionally, it's easier to navigate and work on all areas of the yard when there aren't obstacles in the way, such as puddles, ice or snow.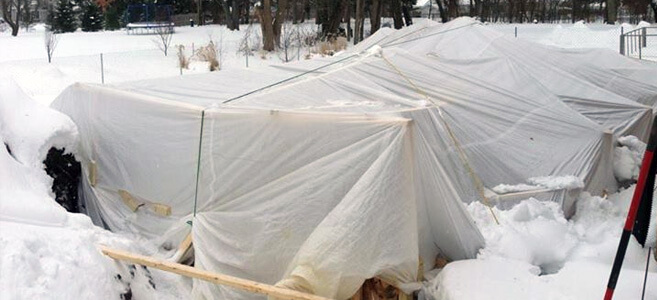 So, why would someone want to build a pool when it's cold outside?
It's no secret that Chicago weather is unpredictable, and there are times when extreme weather – such as a polar vortex or astronomical rainstorm – can interfere with a workday. But since it is Chicago, there is also no way to predict what month the extreme weather will arrive. Some years we see it in January, and some years we see it in May.
That being said, sometimes it is best to consider when you want your pool to be complete before deciding on a time to break ground. If you are looking to have a finished pool and backyard landscape ready to use by Memorial Day, it is probably best to start construction no later than March or April, or possibly even earlier, if you want to leave some cushion for unpredictable weather conditions.
Although it may be easier to break ground on a pool in the warmer months, Sunset Pools & Spas is still prepared and ready to work for you any time of year. If you have a project that you want to get started on, there is no need to wait. Contact us now! We look forward to hearing from you.