Some of our clients have a more difficult time deciding on a shape for their pool. It's a commitment. It's long term. And it's going to make an impression on anyone who walks into their yard.
However, choosing a shape for a pool doesn't have to be stressful. In fact, it should be fun! But how to even begin? Maybe by choosing no particular shape at all!
Sometimes going with a freeform pool is the best approach to creating a pool design. We have several clients who recently went this route, and ended up extremely happy with the results. Below are some details on how we went about creating the perfect shapes for their pools, and I think you will be surprised about what you read and the results you see.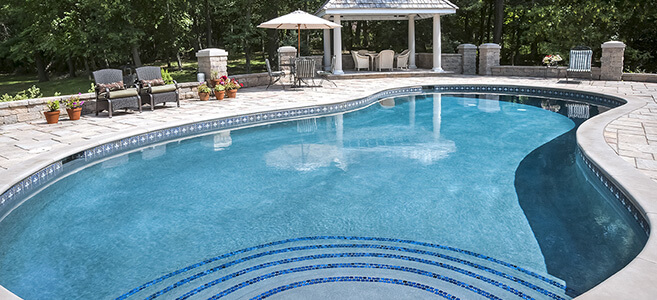 Freeform Pool #1
When we started working on this pool, we knew how big it needed to be, but the homeowner couldn't decide on a shape. So, we decided to get creative. With a can of spray paint in tow, we hit the backyard and started drawing on the lawn. The end result: the pool you see here. It just goes to show that a little flexibility can go a long way when it comes to design.
Freeform Pool #2
This pool has so much to offer that it's hard to believe it didn't require months and months of collaboration with the homeowner. In fact, the situation was quite the opposite. My first meeting with the client lasted 15 minutes, and then the rest was up to Sunset Pools and Spas. With very little to go on, we came up with this fun and intricate design.
This poolscape is overflowing with custom features, including a spa with a waterfall, rock grotto, tanning ledge and a slide. Even the bottom of the pool is magnificent, with large glass mosaic dolphins adorning the floor.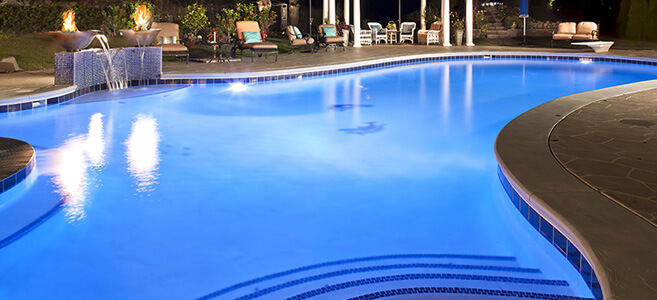 Freeform Pool #3
A freeform pool provides lots of opportunity. This poolscape is by far one of my favorites. This homeowner wanted a backyard paradise, so that is exactly what we provided. It has a spa in the shallow end with two fire-water bowls resting nearby.
This pool also flaunts the latest and greatest when it comes to pool and home technology. The lights are set up to change colors and even perform light shows. Additionally, the homeowner can operate the entire pool from a computer or mobile device. While these features aren't exclusive to a freeform pool, the idea of one can definitely help to spark some creativity during the design process.
As you can see, deciding on a freeform pool provides lots of opportunity when it comes to the imagination, and of course, we always enjoy helping our clients with the creative process.