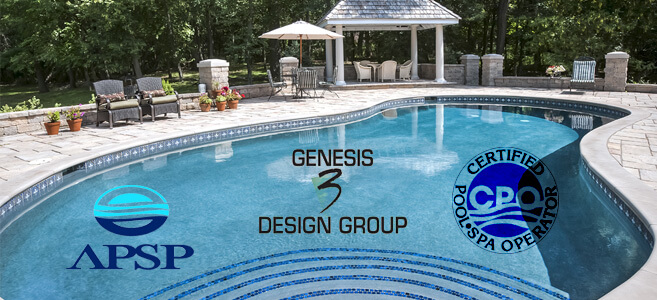 When clients hire us, they are entrusting us with much more than creating a cool pool design for their backyard. They are entrusting us with the long-term value of their property. They are entrusting us with their long-term happiness. And they are entrusting us to go above and beyond when it comes to delivering quality construction, maintenance and customer service.
For the reasons mentioned above, Sunset Pools & Spas places utmost value on the certification and continuing education of its staff. We want to ensure that your pools are designed and built using top engineering principles and practices, and not by using common tricks of the trade or shortcuts that have been passed down from previous generations of contractors.
Here are just a few of the ways that Sunset Pools & Spas is working to better serve you and your pool:
All of our service staffers are Certified Pool/Spa Operators through the National Swimming Pool Foundation (NSPF). This certification is actually required to operate or maintain a pool in the state of Illinois. To become certified, industry professionals must commit time to the classroom and pass an exam.
Many of our team members are also Certified Service Professionals through the Association of Pool and Spa Professionals (APSP). This certification program is more elite in that it requires at least five years of "advanced level technical service repair and troubleshooting experience" just to sit for the exam.
Sunset Pools & Spas incorporates best practices from the top swimming pool builders in the world. I have been extremely fortunate to have worked with and achieved Gold Member Status with the Genesis 3 Design Group, an organization that strives to raise the standards of the pool industry. Through my studies with this organization I have learned so many invaluable pool building techniques, and strive to ensure that my work reflects both their values and high standards.
---
As you can see, Sunset Pools & Spas does more than just tout its experience and achievements. We have the knowledge and credentials to back up our claims, our testimonials and our work. I am extremely proud of the education that my staff has achieved throughout the years, and as Chicago's top pool construction company, we are committed to maintaining our training, and even surpassing it in the years to come.