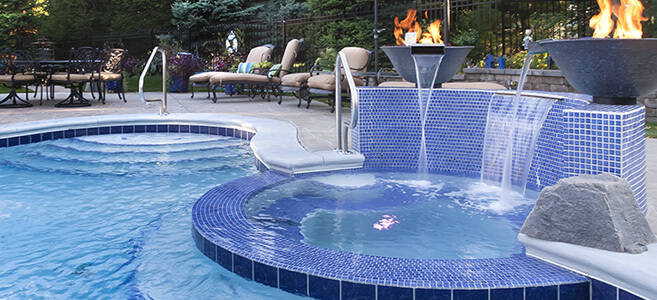 Without a doubt, fall has already set in. The days are chilly, the evenings are cold and Thanksgiving is just around the corner. However, just because the swimming season is officially over, doesn't mean that you have to stay out of the water until the weather gets warm again.
When deciding on what to include as part of a pool and landscape design, many of our clients will ask us to add a spa. With its warm temperatures, a spa can be used into the cooler months of the year, allowing clients to use their backyard amenities before, during and after summer. If you are thinking about adding a spa to your backyard, here are five ideas for creating the perfect design.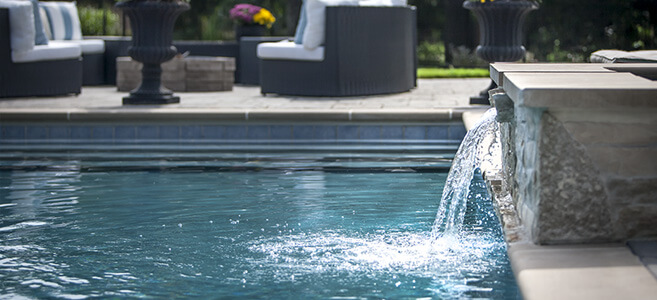 Add a waterfall: A waterfall isn't just a visual feature; it can actually be quite practical – especially if you are looking to put both a spa and a pool into your backyard. By building the spa at a slightly higher level than the pool, we can actually create a waterfall that streams directly from the spa and into the pool. The benefit of this type of waterfall is that you can use the warmth of the spa's water to heat up the swimming pool, ultimately saving you on heating and electricity costs in the long run.
Think bigger: Lately, clients have been asking us for bigger spas to accommodate more people. They want room to relax without feeling like they are on top of the person sitting next to them. While a common spa size is typically around six feet in diameter, consider a design that is closer to eight. And if you're looking to go even bigger, we can make that happen too.
And then think even bigger: Following up on the above point, a spool – a combination of a spa and a pool – is definitely another option for someone who wants to think bigger when it comes to their backyard design. Although it's technically a small pool, a spool's heater is big enough to bring the water temperature up to spa standards.
Bring it indoors: For homeowners who want to have access to their spa year round or for businesses who want to offer spa access to their clients throughout the year, consider an indoor design. Typically, indoor spas are seen at gyms and hotels, but they aren't out of the question for condominium buildings or even houses.
Cater to different heights: Have you ever climbed into a hot tub and felt like you couldn't sit down because the water came all the way up to your chin? Sunset Pools & Spas has a solution for this. We can incorporate different bench heights into your spa to cater to children and adults or swimmers of different heights.
While these are some of our favorite spa types and features, the list of possibilities doesn't stop here. Do you have an idea that you don't see listed above? Give us a call at (847) 285-3220 or click here to contact us. Let us bring your vision to life.