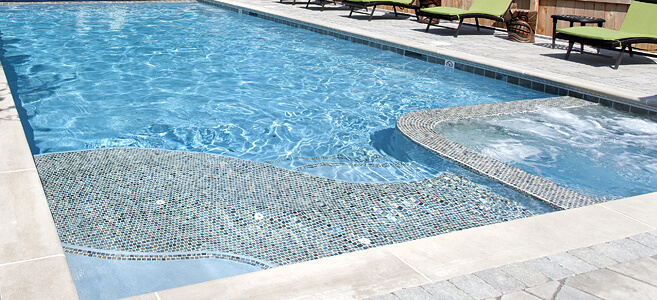 Basketball hoops, diving boards and waterslides are probably some of the more typical swimming pool accessories that you're used to seeing, whether it's in a backyard or at your community pool house. These items are actually popular add-ons for Sunset Pools & Spas customers. However, for those who are considering how they want their new pool to look, we wanted to provide some accessory ideas that may not be so obvious and will help your pool to stand out above the rest.
Below are five unique pool accessories that can help to bring out the best in any modern pool design.
Automatic pool covers: These are not only popular, but they are actually a priority for cleanliness and safety. Pool covers keep debris out of the water, and help to prevent algae from forming under the hot summer sun. They are also a must-have for households that have small children, pets or non-swimmers roaming the yard. With an automatic pool cover, you can relax by knowing that your loved ones are safe when you aren't able to watch them.
Tanning ledges: With a tanning ledge, you can lay out in the hot sun while simultaneously keeping cool. These are typically built at the edge of a pool, and sit under about six inches of water, allowing swimmers to enjoy the sun and the sea all at the same time. Our custom entries and in-water benches also provide a similar experience. Check out our custom pool features page for more ideas.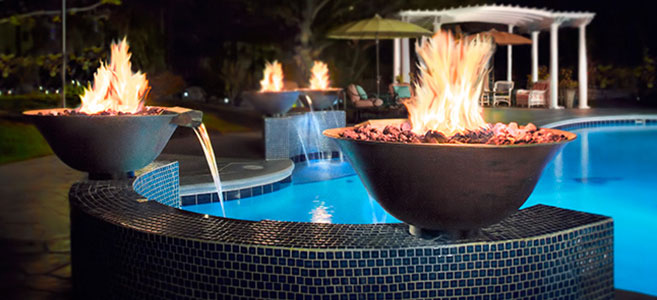 Fire bowls: Fire and water don't always go hand in hand, but they do when it comes to exceptional pool design. Whether you are looking to set a romantic tone, add some extra light for nighttime use, or simply just add an element of awesome to your poolscape, a fire bowl can provide that extra touch.
Remotes: Forget the days of worrying because you forgot to turn down the pool heater or shut off the pool lights before you left the house. Pentair offers remote control devices that allow you to control your pool settings straight from your mobile device. Read more about their remote control and automation offerings here.
Pool Spas: The No. 1 add-on requested by our clients, spas and hot tubs add an element of luxury to any swimming pool environment. They are great for relieving tension and stress, and most importantly, they can still be used when the weather starts to get cool, extending the life of your swimming pool season.
If you are looking to incorporate a spa or any other unique accessories into your pool space, make sure to check back soon for more ideas and pictures. Within the coming months, our blog will highlight some of our favorite summer projects, including unique spa designs and features in addition to close-ups of some of our newest pools!