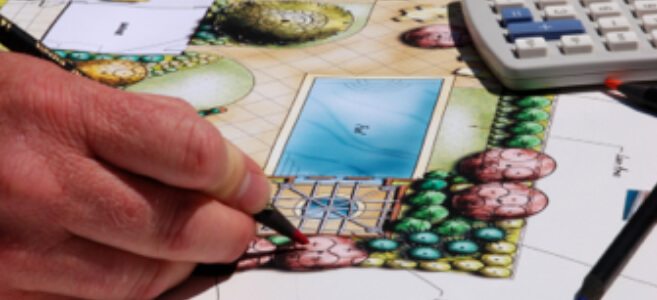 Building a pool takes a lot of time, a lot of resources and of course, a lot of planning. If you are considering building a pool, here are five questions you should ask yourself before starting the process.
1. Do I have permission from my local government?
Before a homeowner breaks ground on their property, a permit may be required from a local government agency. In order to acquire the permit, you or your contractor may need to provide particular pieces of information that are relevant to your construction project. Here is an example from the Cook Country Department of Building and Zoning on what they require before issuing a permit for an in-ground pool project.
Sunset Pools and Spas wants the pool construction process to be as simple as possible for both homeowners and commercial pool owners. We can help you tackle the permit process, so you don't have to worry about it.
 2. How do you anticipate using your pool?
Do you plan on using your pool primarily for exercise? Do you want to create a family-friendly space that serves as a play area for the kids? Perhaps, you want a pool that can accommodate both personal fitness and family fun. Knowing the primary purpose of your pool can help Sunset Pools and Spas make the most logical design recommendations for your backyard space.
3. What is your budget?
Having an idea of what you want to spend on a poolscape can help us to determine the right design for your pool without going outside of your financial means. Knowing your budget can also help us to decide what details to prioritize when creating the perfect design and strategy for your yard.
4. What else do you envision for your backyard space?
Sunset Pools and Spas has the ability to construct a complete landscape that incorporates and accentuates your pool. If you are looking for customized lawn design, an outdoor kitchen, a deck or even a pergola, there is no need to look to another company to complete the details of your yard. Our team is prepped and ready to turn your backyard into a complete poolscape.
5. Do you have a plan in place to take care of your pool once it is built?
Pools require long-term maintenance after they are built. Expected maintenance routines should include regular water chemistry checks, cleaning, and seasonal opening and closing procedures. If you don't have somebody in place who can do this for you, look no further.
Sunset Pools and Spas offers standard and all-inclusive maintenance packages to make caring for your pool a breeze.
Do you have any other questions about what to expect before starting the pool building process? Please contact us with your inquiry.