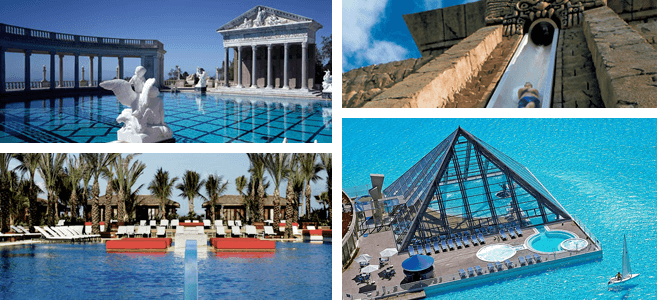 Here at Sunset Pools and Spas, we take pride in both the creativity and craftsmanship that goes into each and every one of our pool designs. And while we do enjoy showing our readers pictures of the projects we have completed, it is also important to seek inspiration from the outside world.
Below are short descriptions of five pools from all across the globe – from South America to Europe. Maybe they will serve as a source of inspiration when you are deciding what to incorporate into your own swimming pool area.
The largest outdoor pool in the world is located in Chile at the San Alfonso del Mar Resort. According to a 2012 article posted on the Daily Mail, the pool holds 66 million gallons of water and stretches across 20 acres.
The monumental Hearst Castle Estate – which covers more than 250,000 acres in San Simeon, California and serves as a museum – has two breathtaking pools on the grounds. Although neither pool is as large as the one at the San Alfonso del Mar Resort, they are both exquisite in design and quite elaborate. The outdoor pool, call the Neptune Pool, has been renovated several times throughout the decades, holds 345,000 gallons of water and features an oil-burning heating system. The indoor Roman Pool is intricately decorated with mosaic tile. The glass tiles in the pool even have gold inside of them.
According to Guinness World Records, the Nemo33 in Brussels, Belgium is not your typical indoor swimming pool. In fact, it is the deepest swimming pool in the world for diving, reaching a depth of 108 feet.
Sometimes nature provides the ideal conditions for creating a swimming pool, giving us hot springs. Canada boasts several hot springs pools in different parts of the country, including the Radium Hot Springs Pool – Canada's largest hot springs pool – which is located in British Columbia.
The Atlantis, Paradise Island hotel in the Bahamas features not just one swimming pool, or even two or three swimming pools, but 11 swimming pools (and more than 20 swimming areas). From a grotto pool with two waterfalls to a pool that connects to a lazy river, Paradise Island features all sorts of swimming and lounging amenities that you may want to consider for your home or commercial pool design. The resort area even has more than a handful of waterslides for the family to explore.
If you are looking for more inspirational pool ideas, make sure to follow our Facebook page, where we often post snapshots of pools from all around the world.