As a pool company, we obviously talk a lot about – well, pools. However there are many other ways to bring excitement, fun and beauty to your yard that don't involve the water at all.
Our backyard design options provide many ways to incorporate outdoor living and landscaping enhancements into your yard. Outdoor kitchens, fire pits, rock formations and pergolas are just a few of them. Enhancements like these are generally popular among the Sunset Pools and Spas clientele, and we have a couple of examples to share with you. The below client projects were recently featured in a blog post on freeform pool design.
For Outdoor Entertaining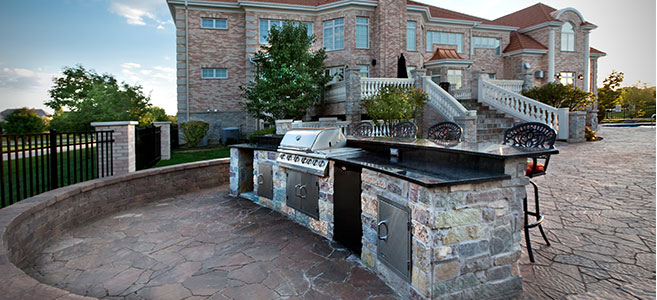 This particular home is decked out for entertaining a large crowd. In addition to having a beautiful pool with a spa, diving board and waterslide, this yard also has plenty of amenities for those who prefer to relax out of the water. This lot features a custom designed fireplace that sits under a spacious pergola, providing heat at night or in the cooler months and shade during the day. The large size of the pergola makes it a perfect place for a large group to gather.
This yard is also equipped with an outdoor kitchen and bar area. Aside from the grill, there is plenty of counter space for cooking and for those who want to have a drink together at the bar.
For Relaxation and Beauty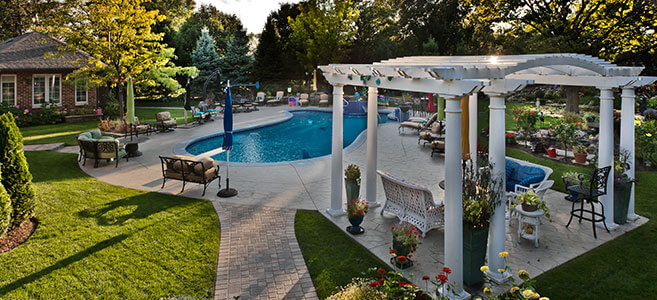 If you are looking for ways to incorporate beauty and relaxation into your yard, look no further than this one. The landscaping details are elegant with multiple rock and brick features placed throughout the yard. We even added a koi pond into the landscape for these homeowners. While this particular feature does involve water, it is a wonderful example of a backyard enhancement for those who like to enjoy time outside of the pool.
Throughout the months we've written about client projects that feature unique add-ons and model outdoor living examples. Feel free to explore the blog for other poolscape ideas or even take a look at our website to see what other backyard design enhancements we can build into your backyard.