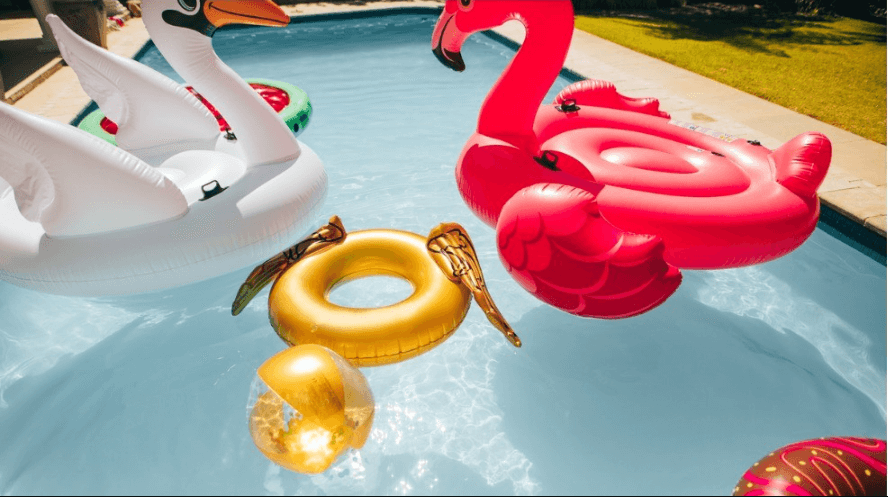 Summer may be over, but when the weather heats up again, you're going to seek refuge in the deliciously cool waters of your pool.
Do you often host pool parties? If so, why not make your pool the hottest place in the summer? You're already the envy of all your neighbors since you own an in-ground pool. Why not issue a party invitation and impress everyone with some exciting pool additions?
Below are some fun pool accessories you should consider when planning your upcoming pool party.
Wireless Floating Pool Speaker
No party is complete without an epic party playlist. You may want to kick it up a notch with some vocal house dance jams! For good acoustics, we suggest using an IPX8 floating pool speaker, like the Mindkoo Portable Wireless Speaker. The "IPX8" specification means that your pool speaker can tolerate continuous water submersion (if used according to manufacturer guidelines).
Floating Ball Lights
Twinkling lights aren't just for the holidays! Light up your pool party for maximum ambiance with either floating ball lights or underwater show lights. Ball lights of different sizes, colors, and lighting modes can add interest to the pool area. Meanwhile, waterproof show lights provide a multi-colored disco effect. You can also add string LED lights and fiber optic lights for a more festive atmosphere.
Floating Pool Furniture
For added fun, you may want to include inflatables in the water. Undoubtedly, you're already familiar with floating ducks, swans, and flamingos. However, a wide variety of loungers makes it easier for both children and adults to stay in the pool. Make sure everyone has a seat with bubble chairs, single and double loungers, or even a whole inflatable couch! 
Inflatable Ball Nets
Play volleyball or basketball in the pool. Nobody will be able to tell if you're sweating! Installing a net across your pool can add a whole new dimension of fun to your party. Add some colorful beach balls to the mix, and you're ready for the fun times to roll.
Regardless of your choices, summer's almost here. Are you ready? At Sunset Pools & Spas Commercial, we specialize in pool construction and renovations. However, we can also help you design and maintain your investment for years to come. Contact us today for expert resources and help.