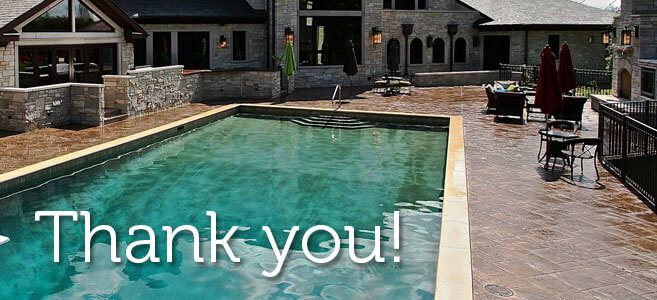 As 2014 comes to a close and folks start to trickle out of Chicago and into warmer climates for the holidays, we want to take a moment to say thank you.
It is an honor and a privilege when clients welcome us into their homes and yards to build something that they plan to enjoy and create memories with their loved ones for years to come. As you can see from some of our recent blog posts, we built many beautiful pools, spas and outdoor living structures this year and are proud of the work we created (and continue to create) for our clients.
We also want to say thank you for welcoming us back after the construction is complete. When clients keep us on board for routine maintenance, such as weekly pool cleanings or the annual fall task of shutting down the pool for the year, or call us in the middle of the night with a pool emergency, it is reassurance that we have done something right.
As the holidays approach and the cold settles in for the long haul, remember the following: For every cold day that passes, we are one day closer to regular warm weather, sunshine, swimming and spa time! Hopefully some of you out there have an indoor spa or a warm climate to escape to during this long dreary Chicago winter. But for those who don't, we hope you continue to dream of swim season and poolside cocktails!
Once again, we are extremely grateful for the opportunity to work with pool and spa owners all across the Chicagoland area, and look forward to continuing our service with you in 2015.