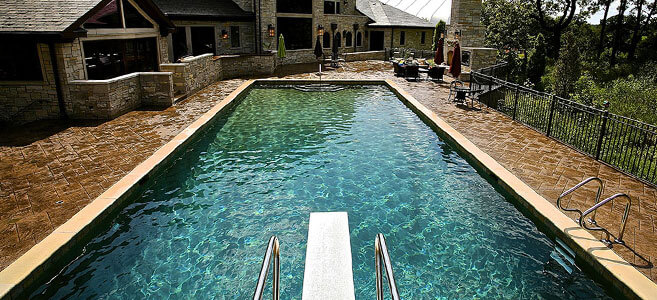 Hiring somebody to do work on your home shouldn't be stressful. When it comes to hiring a contractor to install your new inground pool and spa, you want the installation to go as smooth as silk! Hiring the wrong contractor can basically be a giant headache and burden on your wallet. So, here are a few helpful tips for you to hire the best contractors possible (hint, hint), and then you can get back to enjoying life, relaxing in your new hot tub and pool!
Referrals and Reputation
You can check around with your friends and neighbors to see who did their pool and spa installation. If they were happy, chances are you will be happy. Checking out reviews online is a good way to get a larger pool of opinions on the company you want to hire. When hiring a contractor for any work done to your home, find out how long the company has been in business and if they are committed to quality construction and good customer service. If ever in doubt, check their status with such entities as the Better Business Bureau and Chamber of Commerce. Good standing with both customers and overseers says a lot about what kind of job you can expect to get.
Licensing and Insurance
Before you start any work make sure to ask for the contractor's license and make sure it is still valid and in good standing with the issuing authorities. A license shows that contractors have taken an exam and proven they are knowledgeable with building codes and practices. Some states don't require a license for certain contractors, but make sure to check with your local building inspector to find out about your state's requirements. FYI you have to have a license in Illinois. Another good practice when hiring any contractor is to ask for proof of insurance and find out what types of accidents and damages are covered. You don't want to be held liable in any case for the actions of the contractor!
Finalize the Contract
Make sure to finalize the details of location and design of your inground pool and hot tub installation in the contract. Once it's in the ground, it will be very hard to move! Get signed and dated copies of the contract, including when the job is to be completed, how much it will cost and when payments will be made. Never ever pay in cash! Always use a check or credit card so there is well documented proof of payment with your bank or your credit card company.
Hiring contractors doesn't have to be stressful, honest! If you follow these simple tips, finding the right contractor to install your inground pool and hot tub will be a breeze, and will get you to relaxing poolside quickly! Contact us for a free consultation, or if you have any questions. We'll be happy to assist you and address any concerns you may have.