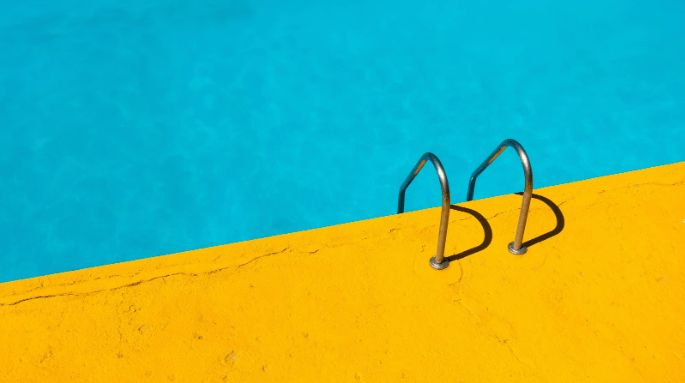 With Chicagoland's temperatures heating up, we're entering peak pool season.
Whether you're considering building a new pool or simply maintaining your existing oasis, saving money is (almost) as refreshing as a swim.
Explore how to take a dip in your pool without dipping into too much of your savings with these tips:
SWIMMING POOL CONSTRUCTION
Building your pool will be the biggest upfront investment, but savvy homeowners can find ways to save.
1) Size it right
You don't need a huge pool to experience its benefits, especially if the most frequent users will also be small in size (children). The larger the pool means the larger the cost—not only for construction but also for pumps, filters, chemicals, and energy used—so be realistic when choosing dimensions. A 20-foot pool can bring plenty of joy.
2) Start with a baseline
Enjoy your starter pool now and then add more features in the future. Pools are a great modular home improvement project. Skipping on the bells and whistles like water features, spas, slides and color-changing lights will save deep on costs, and you can always add them later.
3) Choose simple materials
Keep your tiles and finishes practical rather than exotic. Fiberglass pools are also an affordable and sturdy alternative to the popular but expensive Gunite foundation.
4) Hold off on seasonal needs
You likely won't need a heater or a pool cover until summer is over. Defer those costs until necessary.
5) Research your options
Do your homework and get quotes from at least three experienced contractors. Verify quality of past work, reviews and references, and insurance and warranty.
SWIMMING POOL MAINTENANCE
You can keep ongoing costs low by being smart about pool maintenance.
6. Skim and scrub
Build-up can not only ruin a pristine dip but also damage a pool's long-term health. Skim leaves and other debris off the surface daily for those obvious nuisances. Less obvious is your pool walls and tiles. Scrub those clean every other week to prevent algae build-up, which can threaten your pool's filtration system and pH balance. If your filtration system is working harder on algae and other contamination, it will also increase your energy costs.
7. Pay attention to your filters
Your filters are like your pool's kidneys. Keeping your filter system clean is essential to maintaining a healthy pool, but be careful to find the right balance between cleaning and overcleaning (which actually decreases filter efficiency). Clean out your filter basket at least once a week, and clean out the filter system pipes once a month.
8. Try hacks with household items
Some items you already have in your house may actually be hidden tools for your pool maintenance. A tennis ball is a fun pool toy for playing catch, but the ball's fibers can also help absorb oils left behind from swimmers. Experiencing alkalinity issues? Regular baking soda is an effective version of the sodium bicarbonate recommended specifically for pools.
9. Use a pool cover during colder months
Pool covers are a simple investment and easy step. Covers reduce evaporation, which keeps your pool naturally warmer and limits heater needs. For more energy savings, consider a solar pool cover that harnesses the sun's rays for your pool warmth.
10. Avoid glass by the pool
Beverages are a perfect pool accessory, but stay away from any poolside glass vessels. Broken glass in the pool will require you to do serious vacuuming or even completely drain and refill the pool.