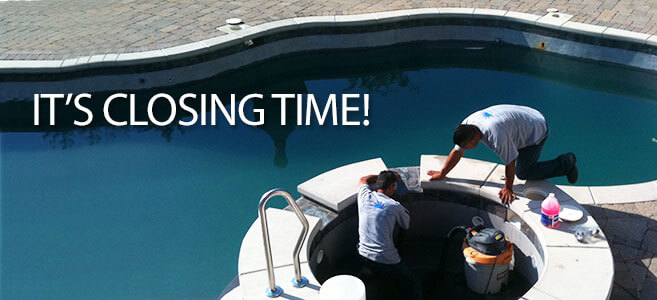 I hate to break it to you: Swimming season in Chicago is coming to an end. While we may have some warmer days on the horizon before fall really sets in, let's face it: The chilly days are starting to catch up and outnumber the warm ones.
Although it may not be warm enough to go for a midday dip or lounge on your pool's tanning ledge in a bikini, there is still some time left to enjoy the warm bubbly water of your pool's spa or the outdoor air with a poolside barbeque. And, there is also time to prepare for what to do with your pool when swimming season is officially over; however, I would highly recommend that you start planning for the seasonal changeover now.
What should you do with your pool after swimming season?
Once the water of your pool reaches about 65 degrees, it will be imperative that you go through the process of closing down your pool for the colder months. This will help to prevent algae growth in the pool and equipment damage during the months that nobody is using it.
So what goes into closing a pool?
There are at least a handful of steps that go into closing a pool in Chicago, particularly because of the harsh weather systems that come through the region. These steps include water drainage, prepping the plumbing line to withstand the frigid winter temps and installing your winter pool cover.
How can you close up a pool in the Chicago area?
Sunset Pools and Spas recommends having this process completed by a trained professional to prevent expensive repairs from insufficient do-it-yourself work. Many of our current clients may know that this process is offered as part of our all-inclusive maintenance package. For those who aren't set up with a pool closing, click here to learn more.
Now that you know the next steps you should take to prepare your pool for the long Chicago winter, get outside and into the warm spa water before it's too late.