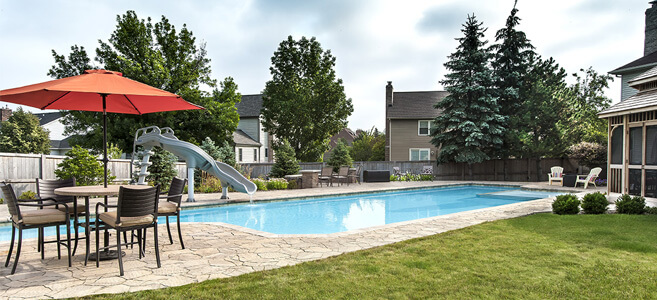 A while back, we talked about a number of pool accessories that are popular among Sunset Pools and Spas customers. However, instead of just talking about them, we now have an opportunity to show you what some of these customized add-ons actually look like after bringing them to life for one of our clients.
This particular backyard design showcases how a few special add-ons can take a traditional pool and transform it into family-friendly and multipurpose recreational space. Below are several features that we incorporated into this pool: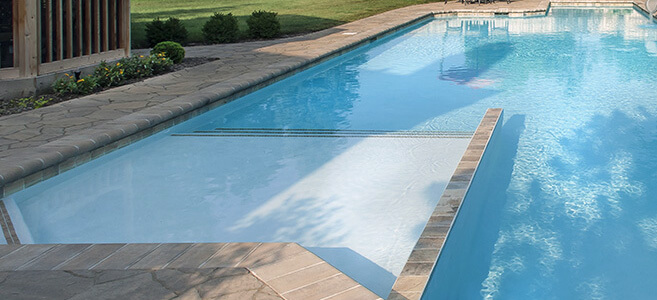 Instead of installing a standard staircase leading into the pool, we took this feature one step further and incorporated a tanning ledge, which is great for relaxing in the water and keeping an eye on other swimmers. However, the shallow ledge also doubles as a kiddie area – a customized design created for the homeowner's new grandchildren.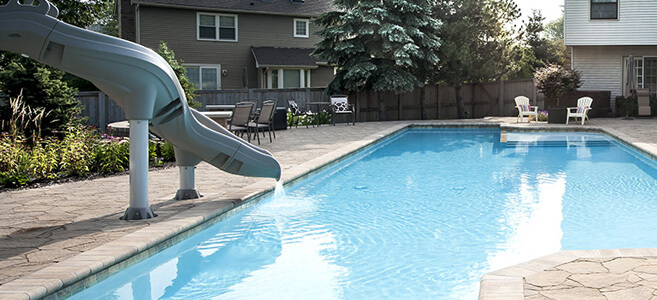 In addition to the wading area for younger children mentioned above, this pool also has a designated swimming area for older children who are ready to have a bit more freedom in the water. With a waterslide and play area measuring 20 feet by 40 feet, there is plenty of room for the kids (and even the adults) to goof around.
Something special about the play area is that it is built into the pool's lap lane. When the play area isn't in use, the lap lane stretches 70-feet long, and is only 5-feet shorter than the lap pools typically seen at gyms such as LA Fitness or XSport Fitness. This is a great amenity for swimmers who like to use their pool for getting into shape.
A homeowner can get so much more out of their pool by incorporating a few extra bells and whistles. Consider some of the exciting additions from this pool when you are ready to start designing your own.