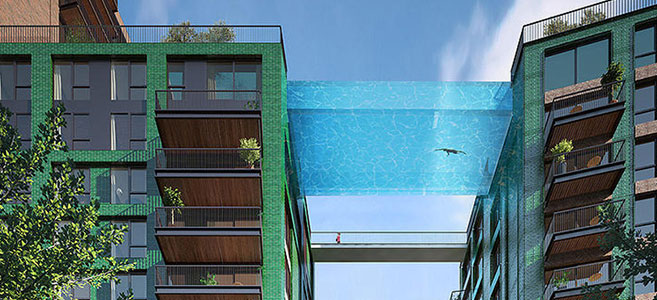 There are a lot of cool developments taking place in the world of residential pools.
Contractors across the globe are building cutting-edge swimming pools for condominium and apartment complexes. Some are private pools, but others—such as the sky pool set to hit London in 2019—demonstrate that even shared residential pools can have a customized, luxurious feel to them.
The plans for the transparent, elevated sky pool showcase some unique features. The pool is set to perch between two buildings, and once complete, according to this article on designboom, swimmers should be able to take laps from one building to the other while suspended 10 stories above street level.
However, unique features do not come without additional upkeep or challenges. Due to the transparent acrylic structure, the BBC reports, "the exterior of the pool will have to be regularly cleaned." Additionally, the idea of balancing a heavy structure like a pool between two buildings that have separate foundations and degrees of movement also poses some building and construction challenges.
Pools like the London sky pool demonstrate how the sky is literally the limit when it comes to creating a customized pool for a home or residential building of any kind. Whether you are moving to a condominium building, or looking to build your own inground pool in your backyard, designs like the sky pool can help to provide a dose of inspiration.