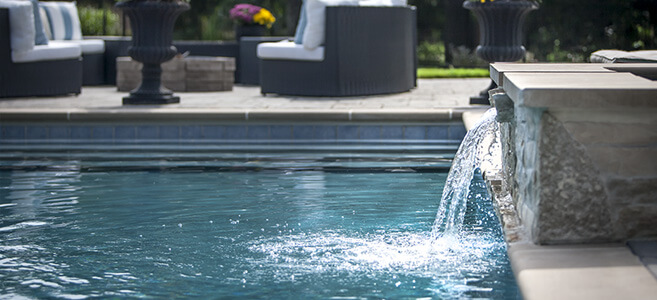 School is back in session and summer activities may be on the decline now that fall is moving in. While you may be using your swimming pool less frequently as fall activities start to take over, there is one important thing to remember: Do not turn off your water pump. 
While the United States Department of Energy recommends reducing the number of hours that you run your pump each day, our staff at Sunset Pools & Spas disagrees with this advice. This might sound strange, especially because energy and resource efficiency is extremely important to us. However, in our opinion, it takes less energy to keep the swimming pool pump running all day, every day. If the pump is turned off, it actually requires more energy and chemicals to get the pool back up to standard once the pump is turned back on. In Addition, having a correctly sized swimming pool pump plays a large role in energy efficiency. We highly recommend reaching out to our expert pool professionals to correctly size your pool for a water pump.
Not running the pump 24/7 is also a sanitary issue, and is the primary cause of a murky pool. The moment you turn off your water pump, debris, algae and bacteria start to build up, which can eventually lead to cloudy or green water. Your pool is meant to be a sanctuary, a place of relaxation and enjoyment. Why fight to keep it clear and clean? Keeping the pump on and your water filtering can help to ensure this.
Trust us when we say it's important to keep your water pump continuously running throughout the pool season. For hotels and other types of public pool spaces, it's actually a law to keep a pump running nonstop; but for homeowners who are concerned about saving energy, resources and money, have no fear. Sunset Pools & Spas works with a brand of energy-saving pumps that meet government standards, so we've got you covered in that area. Specifically, we recommend using a Pentair IntelliFlo pump. We find it to be the most efficient pump on the market and about 33 percent more efficient than other standard pumps. Additionally, these pumps come with a three-year warrantee, and the motors are built to last, so keeping them running all day long can only benefit your pool.
If you have questions about your swimming pool pump or maintaining your pool's crystal clear appearance, feel free to contact us. Our Maintenance Department is ready and happy to help.