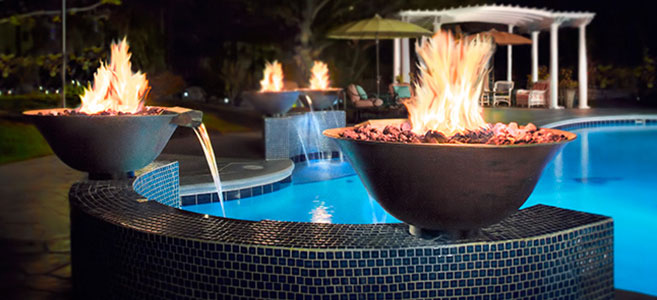 If you live in a trendy area like Lake Forest, Riverwoods or Northbrook, Illinois, you may be interested in what's popular when it comes to home and property development. This summer, our clients in the Chicago area are asking for several particular upgrades when building out their pools.
Fire and water
enhancements seem to be extremely popular this summer. Three of our pools that are currently in development will have fire/water bowls when the project is complete, and two will have color cascade bubblers that project light and change the color of the water. We talked a bit about fire/water bowls back in the fall in a post on unique pool accessories. These add a sense of romanticism and class to a pool, while making a beautiful statement. Bubblers are great for encouraging relaxation, but the colored LED lights will also help to make any of your other pool features – such as a spa, grotto or a beach entry – stand out and shine bright.
Glass mosaic tile is also popular this summer. We currently have three pools that are going this route when it comes to incorporating pool enhancements. This type of tile is considered an upgrade from the standard porcelain tile, but is worth it if you want your pool to have a lavish quality to it. Cactus Stone and Tile, one of the select glass tile suppliers that we use, has a nice gallery that showcases how this feature can enhance the overall look and feel of your pool.
Any of these enhancements will do the trick if you are trying to stay current on the latest pool trends and impress your friends or neighbors. Images of the completed pools mentioned above should be available in the near future. I look forward to sharing them with you, so you can see firsthand how these simple upgrades can truly make a difference in your yard.