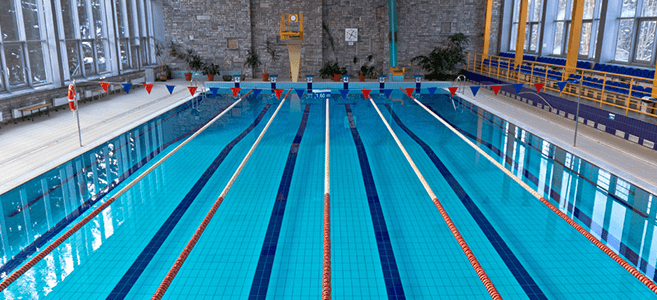 Several weeks ago, we published a blog post about swimming tips for beginners. While it's easy for us to share tips on how to be a better swimmer, we do understand that beginner swimmers sometimes need an extra hand – and a real one.
Swimming instructors can help to provide that extra one-on-one attention that beginner swimmers sometimes need. In addition to helping with swimming technique, a good swimming instructor can also ensure the most important factor when it comes to spending time in the pool: safety.
It is important for any person (or even animal) who lives in a household with a pool to know how to swim, and know how to swim well. This is also important for any person or animal planning to spend time near any other pool or body of water.
If you live in the Chicagoland area and are in need of a swimming instructor, Sunset Pools & Spas can make several recommendations for how to find one:
Big Blue Swim School offers lessons for adults and kids in Wilmette, Illinois, just north of Chicago. This school is actually a client of ours, so we can vouch for the quality of the swimming space.
Goldfish Swim School, another client of ours, also offers swimming lessons for students of all ages, and even for babies as young as four months. They have facilities all across the Chicagoland area and even throughout the Midwest. Check out their locations here.
If you already belong to a gym with a pool, ask if they offer swim lessons at their facilities. Gyms like the Chicago Athletic Clubs offer group and private swimming lessons for various levels.
A website like www.coachup.com may be helpful for more advanced swimmers who are looking to work on specific skills or take their swimming to a more advanced level with a private swimming coach. Check out their swimming page and find a coach here.

Lastly, if you have children and are planning to send them to camp this summer, ask the camp if swimming lessons are a part of the regular schedule. Many summer camps, whether overnight camps, sports camps or even arts camps, will offer swim lessons or pools time as part of the daily or weekly routine.
It is never too late to learn a new skill. Where are you and your family planning to go for swimming lessons this summer?