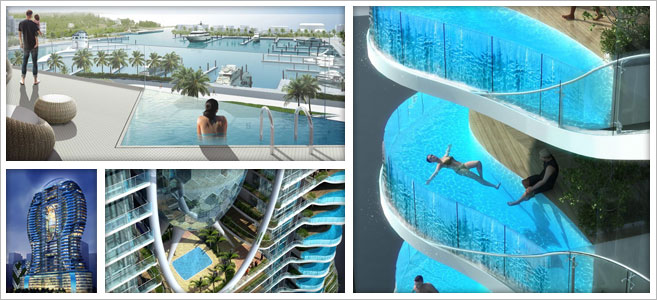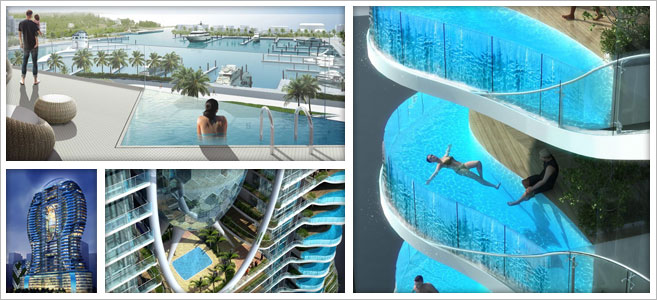 In this blog we talk an awful lot about building the perfect pool in the perfectly landscaped setting. However, the reality is that many people, especially in a jam-packed city like Chicago, don't live in a house that's attached to a big yard, or in many cases, any yard.
If we take a look at the city, it's full of condo and apartment buildings. Most of the grass is in open park space. And while there are many high-rise buildings that have a pool on site for the residents, you don't see too many individuals with their own private swimming space.
However, some cities and resort towns throughout the world are taking the plunge when it comes to providing private swimming places in residential buildings. Projects like the Bahama-based Honeycomb, a 34-unit condominium building set to open in 2016 at the Albany resort, and the Bandra Ohm, a residential high-rise going up in Mumbai, India, are among the latest attempts to provide condo-dwellers with their own private outdoor pools.
Of course, the price tag on a condo like this is not pretty –The New York Times published that a 3,000 to 8,000 square foot condo could run anywhere from $3 million to $12.5 million. Units in the Porsche Design Tower – most of which will include a 10-by-15-foot pool on the balcony – have a starting sale price of $6.3 million and can reach as high as $32.5 million, according to The Wall Street Journal.
Although a private pool balcony may seem like a far-fetched idea for the starry-eyed dreamer, the idea is still a possibility, and shows us that we can continue to dream big when planning for our ideal poolscape.