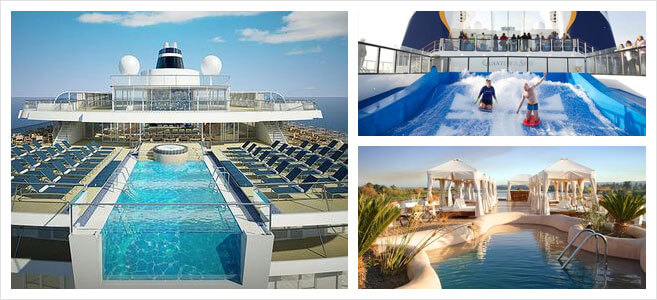 Who else in the Chicagoland area has cabin fever?
After weeks of being snowed in, I am definitely ready to hit the pool. Unfortunately, the latest surge of snow and subzero cold leads me to believe we probably won't see swimming temperatures in the Midwest for quite some time.
Lucky for us, March is practically here, which means for some of us, spring break is just around the corner! And although there is a good chance it will be too cold for us Chicagoans to swim in the backyard, spring break still provides an opportunity to hit the road and find an awesome pool somewhere else.
In the spirit of spring break, I want to share this article I came across on Yahoo Travel, "Six Absolutely Insane Cruise Ship Pools." Here we can imagine a dream vacation: on a FlowRider surf simulator that creates the experience of riding the ocean waves; floating in an infinity pool suspended over the water as the cruise ship glides across the sea; or in a pool atop a river cruise ship!
If you need an additional nudge to get into the mood for a spring break getaway, check out our blog post from last spring, "Five Stand-Out Pools from Around the World." This is a surefire way to get you in the pool swimming mood! But for those who aren't planning to get away for a poolside vacation, and instead, plan to stick around the home base this year, consider visiting an indoor pool at your local gym or community center. There are also places like Big Blue Swim School in Wilmette and Buffalo Grove that offer swimming lessons for both kids and adults. This way you can still fulfill your poolside needs and hopefully hold you off until warmer weather arrives!
Are you ready for some spring break pool time yet? I know I am.