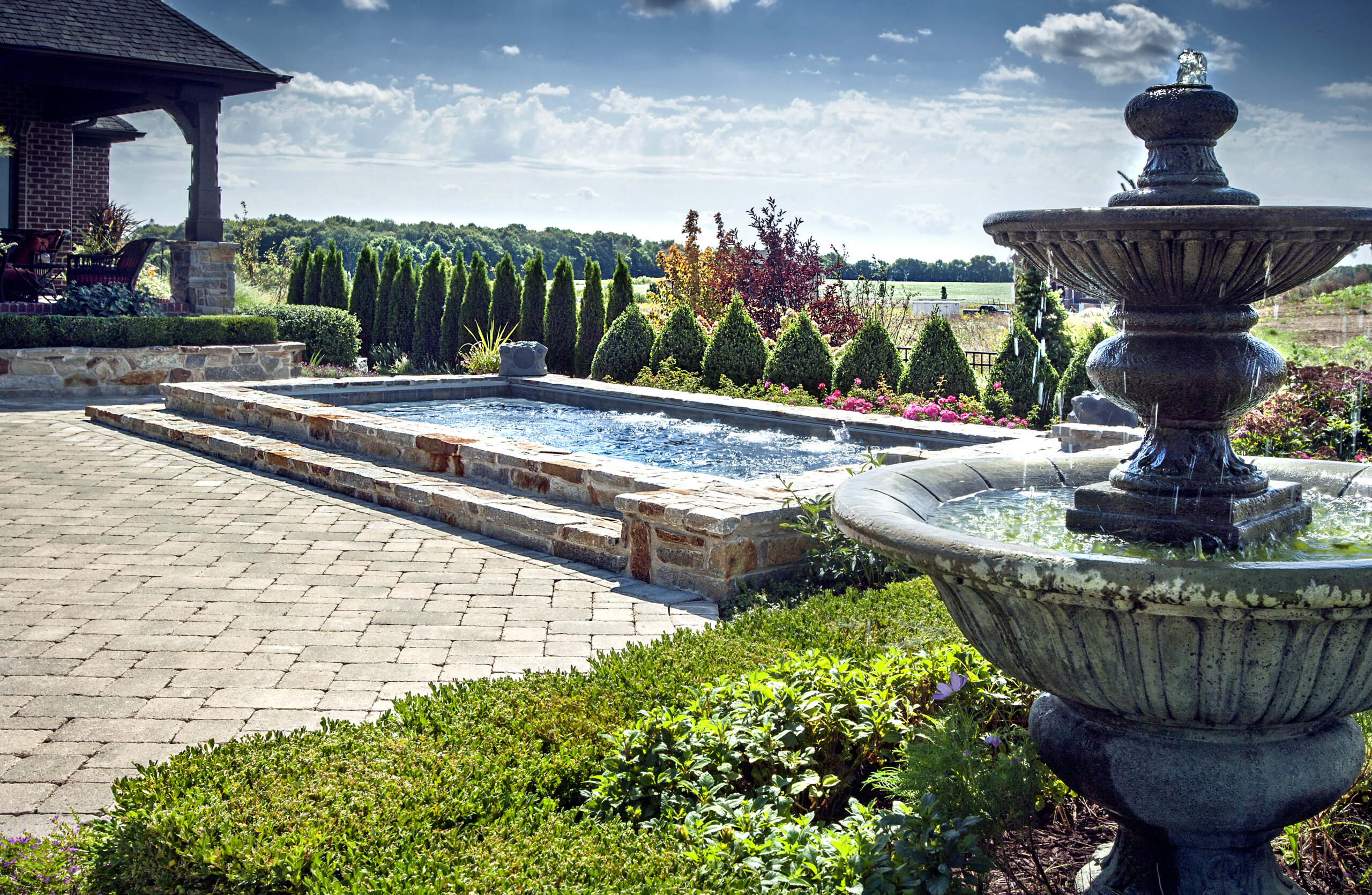 Springtime is blooming and friends and families are getting back outside, which means it's time to make your dream pool come to life.
From above ground pool landscaping, to pool deck ideas, to luxury backyard design inspiration, there's plenty of swimming pool trends to choose from this year. Whether your looking to build your first pool in your backyard or you're ready to revamp your current pool design, here are a few ideas to keep in mind:
Trend 1: DIY Pool Landscaping 
In 2022, the DIY market is only going up. Enhancing your current pool setup doesn't need to be daunting or expensive, no matter if it's underground or above ground. If you're taking the pool cover off for the first time this year, simply start by cleaning the pool deck and surrounding greenery of any weeds and dead plants, and mow the lawn.
Then, you can explore the variety of do-it-yourself pool landscaping options for the new warm season:
Add different types of ambient lighting, such as string lights, fireplace lighting or LED lighting to provide a warm and welcoming atmosphere in summer evenings. Check out our blog about adding outdoor pool lights to your space.
Incorporate stones into the landscape around your pool by creating a stone walkway or a stone rock garden to add an extra aesthetic layer to the space.
There are a multitude of benefits that come from plants. Utilize greenery to its fullest potential by adding accent plants around your pool – a simple way to add extra privacy, beauty, stress relief and relaxation to the experience.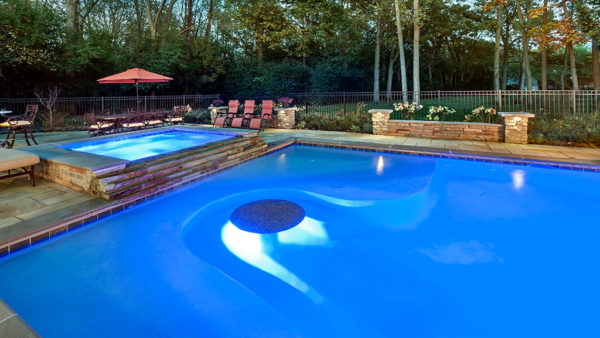 If you'd rather have an experienced professional enhance your green space surrounding your pool, contact Sunset Pools and Spas' design team.
Trend 2: Professional Pool Landscape Designs
A professional pool landscape design incorporates grass, mulch, bushes, flowers and trees to match the desired feel of your pool environment and architecture. Some recent landscaping trends that have pool owners questioning their current designs include "bed head" gardens, low-water landscaping, and hedges with green lawns.
Professional Landscaping Around Pools: Bed Head Garden
Bed head gardens are a fun addition to a pool landscape with a mixture of grasses, plants, and flowers that appear to be random. However, they give off a sense of beautiful chaos that balances out sleek pool designs. They also provide an opportunity to enhance the pool area in the fall months once swimming season is over, with late-blooming flowers.
Professional Landscaping Around Pools: Low-Water
In the US, "About 58,000 gallons of water are used per home per year, most of which is used for gardening and lawn irrigation."
Low-water landscaping is a great option for those who want to reduce their water consumption and landscaping costs around their pool. By using a variety of stones, native plants and low-water grass, you can keep a year-round curb appeal for your backyard and home, while keeping maintenance labor and costs low.
Professional Landscaping Around Pools: Hedges and Lawn
The privacy and lushness that pool hedges and green lawns bring to a pool experience elevate the overall appearance and experience for those fun summer moments. Consider turning your pool area into a green haven that feels even more like a getaway.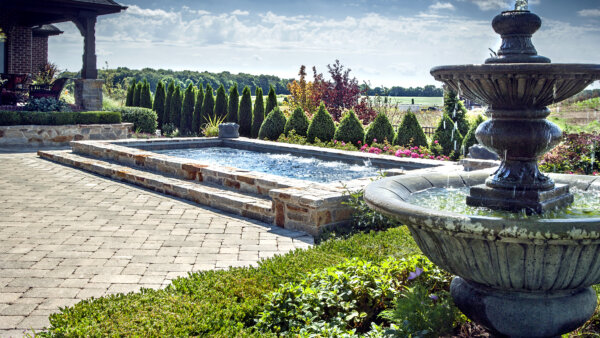 Trend 3: Geometric and Concrete Pool Deck Designs
If you're doing research for your first pool design, or finally committing to adding that pool deck you've always wanted, there are many different styles to look into. In 2022, modern pools and pool decks are all the rage.
Luxury Backyard Design: Going Modern
Geometric pools are a design trend that has been continued into 2022 because they combine a sense of sleek sophistication with traditionality. Some common geometric designs include rectangle, square and oval pools. The main benefits of choosing a geometric pool design are that they are more cost-effective than freeform pools and easier to build.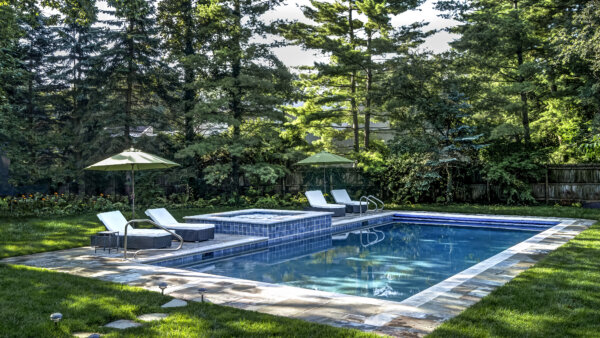 Luxury Backyard Design: Concrete Pool Decks
Pool decks are an important piece of an overall pool design, since they are the transition between the home and the water. They also provide extra entertainment space to the area.
Concrete pool decks are common for pool owners because of the versatility, affordability and durability of concrete. Types of concrete decks include textured concrete, broomed concrete or stamped concrete. Stamped concrete decks can take many shades and shapes, which make them a popular choice for consumers in 2022.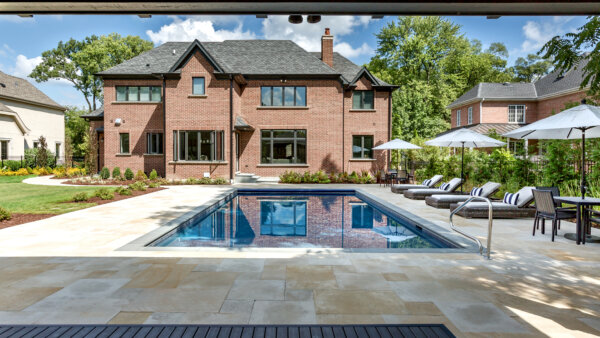 Create Your Dream Pool and Deck with Sunset Pools and Spas
With all of these ideas in mind, you have what you need to move forward and begin creating your ideal pool, deck and landscaping design. Whether it's brand new or a remodel, our team at Sunset Pools and Spas make these dreams a reality in the Chicagoland area.
Contact us today to get started.