How to Light Up your Backyard for a Party
When the days get longer and the weather heats up, you naturally spend more time outdoors, with the ones you love. The warmer conditions present more opportunities to host events with friends and family at your very own home. Your patio, pool, and backyard just might be the perfect space to bring your party to life. One of the most cost-effective and worthwhile ways to make your outdoor living space more inviting is by improving your outdoor landscape lighting. Let's take a look at some potential opportunities to give your backyard some life through lighting, before your next event.
Deck and Patio Lighting to Please a Crowd
For most outdoor parties and events, the focus will be on the deck and patio area. We have come up with a few decks and patio lighting ideas to set the mood for your guests.
Outdoor Kitchen Lighting
This idea is extremely useful if you have a bar area or outdoor kitchen area. You may consider lighting the spaces beneath your cabinetry and countertops, or near your barbecue grill.
Recessed In-Floor Lighting
Recessed floor lighting is a popular option, especially if your deck is raised. A good rule of thumb is to place lighting near the edges of your deck, or near walkways.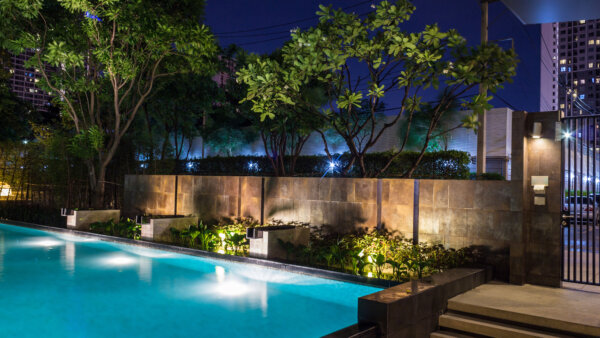 Using Fire for Outdoor Lighting
Fire, aside from the sun, is considered the earth's oldest source of light. For outdoor lighting purposes, fire has a vast amount of potential uses. Let's take a look at the potential uses of fire for outdoor lighting. 
Lanterns are almost a must-have for many outdoor events. They set a tone that is intimate and are often decorated to match your theme. 

Torches, unlike lanterns, have a more upbeat tone. Many times the flame is larger, giving off more light. A key benefit to torches is that they can contain citronella oil to help ward off insects, keeping your guests more comfortable.
Outdoor Landscape Lighting
Your pool is not the only focal point when hosting an outdoor event, and it isn't your only investment. Outdoor landscape lighting oftentimes will involve placing spotlights throughout your yard.  The spotlights aren't your typical spotlights, they are more specialized fixtures that come in different shapes, sizes, and colors that will help create the warm ambiance you are looking for. 
One of the most popular examples of outdoor landscape lighting is showcasing trees in the backyard space. If you have a large crowd, having spotlights on a large backyard tree can make those areas more inviting to guests. In addition, the architecture of the backyard or house is a popular lighting spot that will certainly impress your guests. 
Another aspect of outdoor landscape lighting is the light intensity. If the party is more upbeat in nature, the bright lights tend to be the choice of many. In contrast, if the event is more formal and intimate, dim lighting may be a better choice.
Outdoor landscape lighting can add value and presence to your backyard, giving you an outdoor event that will stand out.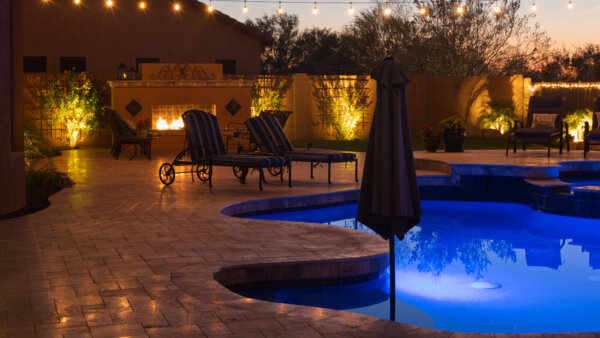 An Addition to Pool Lighting: Highlights and Lowlights
In addition to your typical pool lighting, there is a technique to add to your poolside ambiance. The technique is called highlighting and lowlighting. Uplighting is a feature where your lighting is placed on the ground pointing upward at features such as trees. Downlighting encompasses a light above shining down at the ground below. Downlighting covers more surface area, though many use both techniques synonymously, due to the benefits of both.
Customize Your Outdoor Lighting 
Developing the right outdoor lighting plan can be challenging. There are countless ideas, options, and techniques to consider.  With so many options to take into account, it isn't an easy task to handle on your own. Entrust Sunset Pools & Spas helping to guide your outdoor living space plans.  Our full-service backyard design services are guaranteed to leave you with the perfect custom outdoor lighting design you'll love.
Learn more about our outdoor lighting services and contact us today to get started on the custom backyard of your dreams.