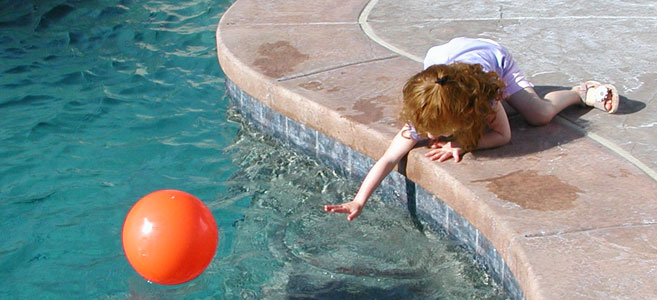 This past month Sunset Pools and Spas welcomed a new baby boy into the family! We are so overjoyed by the arrival of our son, and of course, look forward to spending many fun summers in the pool together.
It's no secret that when a new baby comes into the world, there is so much to learn and so many new things to worry about. Of course, for us, one of those worries involves childproofing the pool, especially in those years before the baby learns how to swim.
According to the U.S. Consumer Product Safety Commission (CPSC), at least 174 children drowned in swimming pools or spas between Memorial Day and Labor Day this year – and most of them were under the age of five. Eleven of these incidents took place in Illinois alone.
There is no question that childproofing your pool is essential – no matter if you have kids or not. Consider other family members or friends who may bring their children over to your home, or your neighbors who may have kids unexpectedly running through your yard. If you are a pool or spa owner, is it absolutely critical that you ensure your yard is safe, especially for those times when it is unattended.
Lockable Cover
There are several easy steps you can take to childproof your pool or spa. The first, and one of the most obvious, is to install a lockable cover. We have touched on the importance of pool covers in a previous blog post, but they really are a priceless addition if you are trying to protect small children who are at risk of wandering into the yard or pool area unsupervised.
Building a Fence
Building a fence around your pool and spa area is another way to ensure that kids stay away from the water. The CPSC offers many recommendations for what should go into a proper protective pool barrier: Ensuring the fence is at least four feet high with bars that are no more than four inches apart are some of their recommendations. You can read more recommendations from the CPSC here.
Installing as Alarm System
When it comes to childproofing, installing an alarm system is a tactic recommended by a variety of sources. Setting your home's alarm system to sound when a door or a window is open will alert you if your child is trying to exit the home. It is also possible to add an alarm system to the pool itself. There are different types of pool alarms, but the idea is for the system to activate when it senses motion in the pool. You can read more about different types of pool alarms in this article posted by the International Association of Certified Home Inspectors.
Teach Your Child to Swim
While you will probably have to wait until your baby is a bit older, teaching your young child to swim – or at least float– if he/she happens to fall into the pool, is probably the No. 1 life-saving technique that you can adopt. Check out this video of a toddler who was taught how to float and call for help after falling into the pool.
This is not an extensive list of safety precautions you should take with your pool, but hopefully it provides a good start. I highly recommend that you continue to research childproofing methods that make the most sense for your pool, your family and your home.
Owning a pool is a wonderful luxury, but it is also a great responsibility. It is important to always be mindful of children, and even adults, who may not know how to swim and may have access to your swimming area. If you are thinking of building a pool or spa, or already have a pool or spa, make sure that you also have the necessary safety tools installed and in proper working order. At the end of the day, these safety precautions can help to save lives.