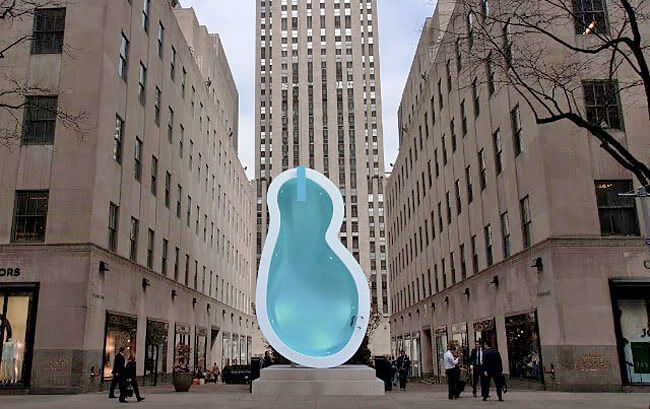 Swimming pools can come in all shapes and sizes, and can even serve different purposes.

Some are designed specifically for lap swimming and exercise, some for relaxation, and others, as a space for entertaining family and friends.
However, in the case of a new swimming pool —or at least a sculpture that looks like one—going up this spring in New York City, the pool may only invite a sense of inspiration instead of a place to swim.
Scheduled to make its public debut in April, the sculpture, called Van Gogh's Ear, will take the form of a pool turned on its side, as if someone were lifting it up and trying to tip it over to spill out all the water.
According to a press release shared by the Public Art Fund in New York, NY, the pool will feature a "cyan blue interior, adorned with a polished stainless steel ladder, bright lights, and a diving board," and will be on display at the "Fifth Avenue entrance to the Channel Gardens at Rockefeller Center."
In the press release, artists Elmgreen & Dragset also stated the following: "The sculpture recalls the 1950s-style pools found in front of some Californian private homes, in contrast to this very public East coast urban setting. It is as if an alien spaceship had landed in the midst of this prominent and busy environment. One can dream of lazy days under the sun while surrounded by all the traffic and business going on at Rockefeller Plaza."
The sculpture is currently scheduled to be on display through early June. Although its tenure in New York City will be short, the sideways pool display demonstrates how homeowners can find inspiration for their pools anywhere—even in a piece of artwork.