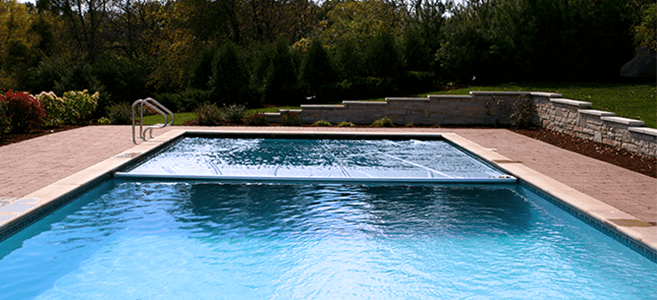 Just weeks ago I was talking about breaking open the grill to celebrate the wonderful warm weather we were experiencing in Chicago.
Barely two weeks later, I am questioning my own advice.
Just days ago, we experienced the return of the snow storm. Followed by chilling temperatures. Then rain. And then even more cold.
It's no secret: The city we live in is unpredictable when it comes to weather, which often puts a damper on our plans. This is why it's so important for pool owners in the region to invest in a pool cover.
Pool covers provide a lot of value and are well worth the investment. They provide safety for children and pets when the pool is unprotected. They help to keep the pool clean when we aren't using it. Pool covers even help to keep out unwanted intruders, like animals and debris. And they also can provide a quick solution during the unpredictable months of the year.
When the weather is bad, it's easy to just set the pool cover in place. There is no need to worry about quickly running outside to drag the cover over the pool yourself. Thanks to automatic pool covers, the work is easily managed by the technology!
However, while pool covers can serve as a protector from the snow and the rain, it's still important to remember they can only handle so much strain – at least if your pool is an above ground pool.
A recent article from Massachusetts' ABC40 reported how above ground pools were collapsing due to too much weight on the cover from snow. It also suggested using a roof rake to carefully remove the snow – and thus, the weight – from the top of the cover.
Hopefully, Chicago doesn't have to worry about anymore more snow as we inch closer to summer. However, if you do have concerns about protecting your pool or your pool cover, Sunset Pools and Spas can definitely put you at ease. Contact us with your pool cover questions today.