Building a pool can be fun, but even the experts will tell you, it's no piece of cake. However, we can still try to make it look like one!
There are many steps that go into building a pool or a spa, from choosing a design to laying the groundwork and installing the plumbing. There are choices to make about water type and cleaning and maintenance tools. Tile design. Whether to go with traditional stairs or splurge on a custom beach entryway. And whether to install cool extras like a diving board for the kids, a tanning ledge for yourself, special lighting for evenings or even a waterfall for the hell of it.
The choices are endless, but they don't have to be stressful. For those of you who are completely new to the idea of building a pool, we've created a chart to help guide you through the process step-by-step.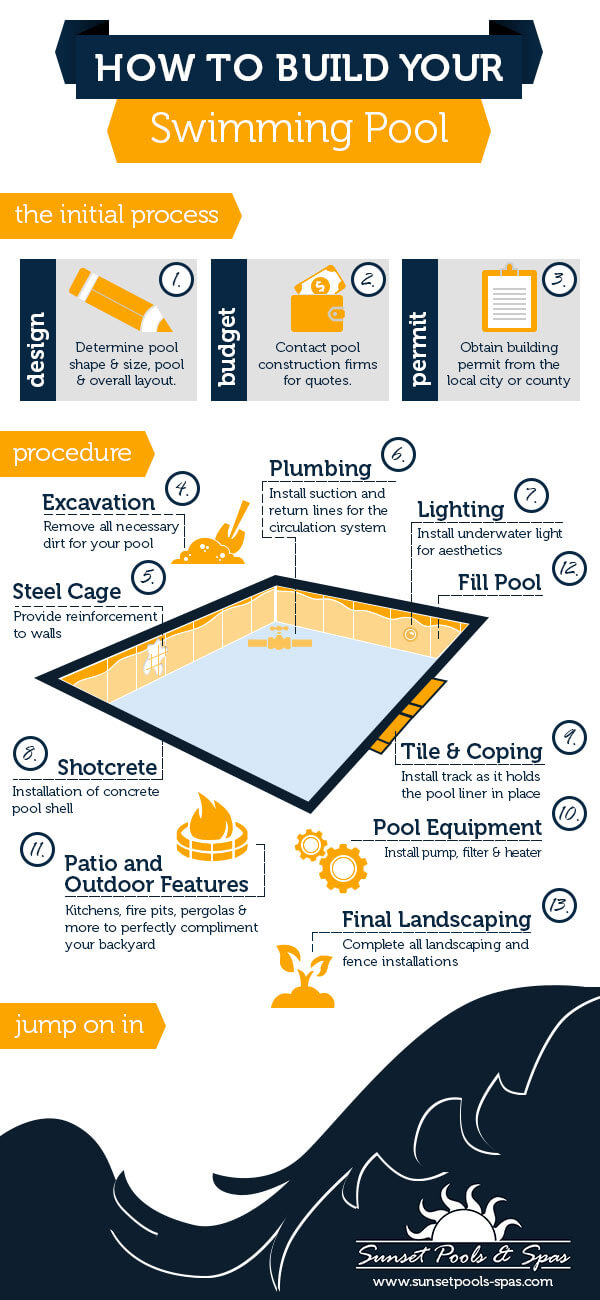 As you can see from the image, building a pool is a multilayered process involving both imagination and lots of technical work. Even before the construction begins, there is a ton to figure out.
Please keep in mind that for those who need an extra hand, the first two steps mentioned in the infographic are actually flexible and potentially interchangeable, especially for homeowners who are clueless about the pool construction process, the potential for their yard or what they are even able to afford.
If you fall into any of these categories, it would be in your best interest to contact Sunset Pools as your first step and work with our design team to figure out the perfect pool for you. We will assess your budget and priorities first and then make suggestions for your yard from there.
Regardless of how you decide to pursue with Step 1 of building your pool, it's never too early to start gathering ideas. If you need a place to start, check out some of our clients' freeform pool designs or examples from our more recent projects. Additionally, we also can suggest five questions you should ask before beginning the pool construction process.
Now that you have your inspiration, let's get to planning!